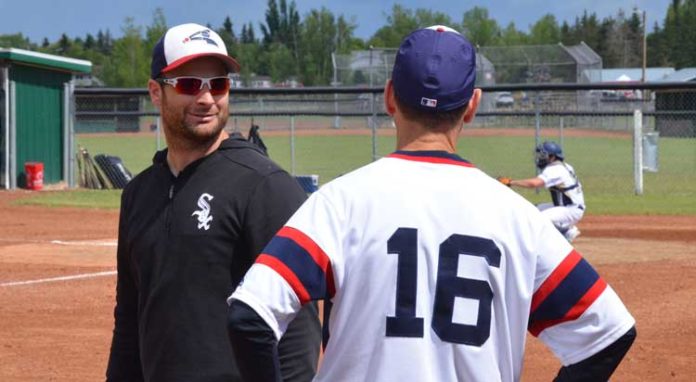 Nothing lasts forever.

Just ask the Meadow Lake Senior Sox who saw their undefeated streak this season come to an end in the North Saskatchewan River Baseball League (NSRBL) when they fell 10-3 to the North Battleford Beavers last Thursday (June 15).

"This was our first misstep of the year," remarked veteran Sox player and team manager Craig Weran. "As I noted last week, road trips are always tougher to get all your players to the game. It was also a really cold, windy, wet evening. Dylan Esau pitched for the third time in five days, they were able to hit the ball on us, scoring 10 runs. We just couldn't get anything going, we didn't have much offence, couldn't scrape together any base hits and they just beat us."

The North Battleford Beavers, Weran added, had their best guys on hand that evening, while the Sox went down with only 10 players.

"That's the tough part about these weekday road games – it's tricky getting all your guys there," he said. "We had a rough inning in the fourth where we gave up five runs. They were already up 3-0 after the first inning and it felt like it was over. They scored three in the bottom of the first, we scored one in the top of the second so it was 3-1 before they added five more in the bottom of the fourth. It just felt like too steep a hill to climb in the number of remaining innings."

Going forward, however, Weran does not believe the loss will impact Meadow Lake's momentum going into the team's next game.

"I don't think it will," he said. "Rarely does a team go undefeated throughout the season. At some point you're going to lose a game or two, and that was one for us. Still, we expect to be ready for Standard Hill. They're another good team that will be playing at home on a weeknight, so we need to get our guys there, be ready to play. I believe Standard Hill will have a stronger team at home than they did when they came to Meadow Lake last week."

The Meadow Lake-Standard Hill game is scheduled for tonight (June 22).

"After that, we have a string of home games to finish off the season," Weran said. "Monday (June 26) and Thursday (June 29) next week and Tuesday (July 4) and Thursday (July 6) the following week. It's a bit peculiar to have four games in a row at home, but there you go. Four games at home to end the season starting next Monday."
by Phil Ambroziak