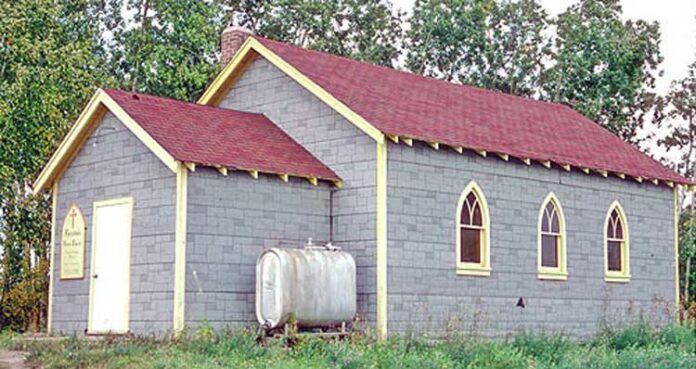 One of the oldest buildings in Dorintosh won't be going anywhere anytime soon if the local village council has its way.

Recently, the Village of Dorintosh announced its intent to pass a bylaw designating the Dorintosh United Church as a municipal heritage property. The bylaw will be considered at village council's Dec. 13 meeting.

"It is one of the oldest buildings in town," remarked Dorintosh mayor Derek Osborne. "It serves as an historic landmark when you're coming into town… It used to be located near the cemetery but was moved into town many years ago, long before our time."

Osborne went on to say, by giving the church building heritage property status, it will be both protected and preserved for many more years to come.

"It won't be demolished or whatever," he added. "People haven't utilized the church for a long time now, but it's still important to so many people in town. Unfortunately, all of this stuff (gaining municipal heritage property status) moves at a snail's pace."

The Dorintosh United Church's history dates back to 1932. That was the year Frank Myers, the first student minister, arrived in the Sikup district. He visited homesteaders in the area and held occasional services. George Affleck was the next student minister, serving from 1934 to 1935. He started construction of a church at Sikup (west of Dorintosh) using poplar logs. Meanwhile, Al Forest took over as student minister in 1936 and work continued on the church until it officially opened in 1938.

In 1939, the Sikup Church congregation requested and became part of the Meadow Lake pastoral charge, but, by 1949, as homesteaders moved away, church members dwindled. Thus, it was decided to move the church to the Village of Dorintosh. At this time, the church was renamed the Dorintosh United Church.

Renovations and upgrades to the building continued over the years. By the 2000s, however, attendance had begun to drop off and, in 2014, the future of the church was discussed at the annual Dorintosh congregational meeting. The decision to amalgamate with Grace United Church in Meadow Lake was made in 2015 with the closing service for Dorintosh United Church taking place April 10, 2016. It was also the congregation's desire to have the church building become a heritage property and, that same year, an agreement was reached whereby the village purchased the church building and property for $1.

Among those who has fond memories of the church is local resident Angie Henke.
"I was baptized in that church and I was also married in it," Henke told Northern Pride. "It holds a lot of history for the community and for me personally."

Henke went on to say it was sad to see the Dorintosh United Church close, confirming low numbers was indeed the reason behind it.

"The generation now days just won't go to church," she said. "I don't know why this is the case, but all churches everywhere are pretty much filled with white or grey-haired people. You can't seem to get the younger generation involved."

Henke said this is discouraging, as well as frightening, when she thinks of what will become of church services in general in another two or three decades.

"Oh, I do find it discouraging for sure," she noted. "I'm happy to see the village do this (seek municipal heritage property status), but it was pretty sad to see the church itself have to fold up."
by Phil Ambroziak