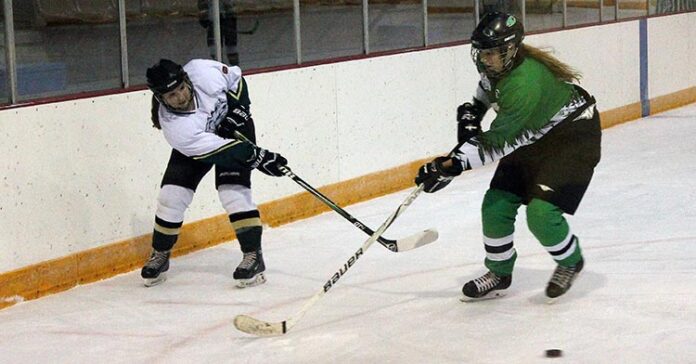 by Derek Cornet
The Meadow Lake Midget 'A' Stampeders have so far won six out of nine games in the North Saskatchewan Female Hockey League.
The team most recently competed against the Diefenbaker Thunder Dec. 18 at PineRidge Ford Place on Flying Dust First Nation, which was followed the next day by a match against the Saskatoon Rush at the Meadow Lake and District Arena. While the Stamps lost 6-3 to Diefenbaker, they blanked Saskatoon 10-0 to take the win.
So far this season, the squad has won six games, tied two and lost one. They're currently fifth in the league with 14 points with the Saskatoon Bantam 'A' Impact at the top with 19.
"Some of the teams have played a lot more games than us, so I think we'll be climbing up," said coach Jeremy Norman. "They're really improving from the beginning of the year. Some of the teams we were tying with earlier, after the last road trip to Saskatoon, we're beating them. We're skating a lot better."
Norman went on to say, if the team keeps up its performance, it'll be a top ranking squad by season's end. He added, players have been working on endurance and are now capable of playing three periods instead of two without becoming tired. Norman said team members know what they need to work on and will be training hard in the coming year.
"The passing is getting a lot better from the earlier games," he remarked. "The girls are starting to develop some plays. They're figuring each other out and where to go and where each girl is going to be."
Stamps manager Treena Neufeld is also proud of the work accomplished so far this season. She said Norman and assistant coach Danene Kopperud have been excellent.
"Danene has been training them well and she's getting them into good shape," Neufeld said. "They've learned so much and I can see the improvement from last year to this year."
Neufeld is also hopeful other female hockey players in the Meadow Lake area will take notice of the team's success. Currently there are 17 girls on the squad, but Neufeld warned next year three players will be gone and she's worried the team could fall apart.
"It took us a long time to get this far, but we could be losing it in a couple years," she said. "We'd like it if some girls would come up and play."
Meanwhile, the Stamps don't have any other games scheduled until they travel to Prince Albert for a tournament Jan. 8-10.