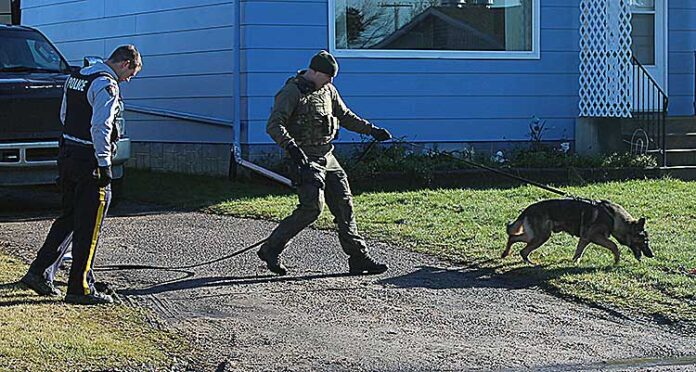 The dog cop was on the prowl in Meadow Lake today.
According to Meadow Lake RCMP Sgt. Ryan How, Cpl. Shawn Irwin and his canine companion were called in to assist in the search for a dangerous offender earlier today (Nov. 7).
"Meadow Lake RCMP received three separate complaints of a male acting strange and at one point hit a passing vehicle with a crowbar, then threw a brick through a window at a different address," How explained. "With the help of Cpl. Irwin as an RCMP dog handler, after a foot pursuit, a safe arrest without incident was made on a 24-year-old male believed to be suffering from a mental illness. This male has a history of violence and will be held in custody until further assessments can be done."
How went on to thank the public for their patience while there was a strong police presence between Centre Street and 5th Avenue West.
On Nov. 5 shortly before 6 a.m., Meadow Lake RCMP tried to stop a vehicle on 5th Avenue West when it fled to the highway south or Meadow Lake. Because of safety reasons, RCMP did not pursue, however the vehicle was located damaged shortly after with the assistance of Loon Lake RCMP.
Eighteen-year-old Kerry Lewis of Onion Lake was arrested as the driver of the vehicle, which was determined to be stolen. He has been charged with: operating a motor vehicle while being pursued by police; possession of property obtained by crime; dangerous operation of a motor vehicle; resisting a peace officer and failing to comply with probation.
"Lewis also had multiple warrants for his arrest at the time," How noted.
Lewis was remanded to appear in Meadow Lake provincial court Nov. 7.
Meanwhile, on Nov. 6, RCMP responded to a complaint north of Meadow Lake where a male was reported to have pulled out a gun and pointed it at another male. Meadow Lake and Pierceland RCMP were able to locate a vehicle as it fled the scene and make two arrests.
Christopher Thomas, 34, was remanded to appear in Meadow Lake provincial court Nov. 7 on charges of: pointing a firearm; careless use of a firearm; mischief; failing to comply with an undertaking and possession of a weapon for a dangerous purpose.