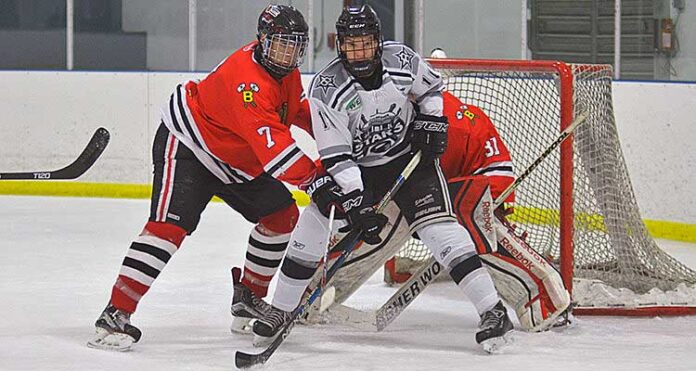 by Phil Ambroziak
It was a homecoming to remember for Meadow Lake's Dylan Esau.
The 15-year-old forward with the Saskatchewan Midget AAA Hockey League's Battlefords Stars was back in town Dec. 1 for the annual Battlefords-Beardy's Blackhawks game contested at PineRidge Ford Place on Flying Dust First Nation where he not only entertained the hometown crowd, but also scored the game-winning goal in a shootout.
"It was great to be back home – I miss playing there," Esau said when contacted days after the event, which also serves as a fundraiser for the Meadow Lake Tribal Council's youth sport fund. "We didn't have the greatest game, but it was still a special game. Both teams are fairly close in the standings and it would have been nice not to have let Beardy's get a point, but I still had a nice goal early in the game, as well as the winning goal in the shootout."
Battlefords defeated Beardy's 4-3.
"It felt great to hear the crowd cheer when I came out during the shootout," Esau continued.
Among those on hand to cheer Esau on was his father, Len Esau.
"He had a lot of family and friends on hand to watch, and there definitely was a loud cheer when he got the call to take part in the shootout," Len Esau said. "I believe the majority of fans in attendance were cheering for Beardy's that night, but there was still a lot of noise coming from Dylan's supporters throughout the entire game. It was also nice to see Jayden Cantre – another local boy – out there playing for Beardy's. He and Dylan played Midget AA together last season with the Meadow Lake Stampeders."
Cantre, a 17-year-old defenceman, is from the Makwa Sahgaiehcan First Nation near Loon Lake.
Meanwhile, close to 300 people were in attendance for the game, which was exciting for Esau who, since the start of the 2016-17 hockey season, has been living and attending school in North Battleford because of the commitment he's made to the team.
"It took a little time to get used to it, but I'm into a routine now of going to school and going to practice – I really enjoy it," he said.
It's also taking some getting used to on the part of his family.
"It was a bit of an adjustment for us, much the same as when our older son, Brett, left to play baseball out of town," Len Esau admitted. "It's tough as a parent, but both boys have a passion for sports and Dylan wants to take his interest in hockey as far as he can. The opportunity was there for him, but at least North Battleford isn't too far away."
Len Esau is also an accomplished athlete having played NCAA hockey, as well as internationally, in the American Hockey League (AHL) and in the National Hockey League (NHL) with the Toronto Maple Leafs, Quebec Nordiques, Calgary Flames and Edmonton Oilers.
"I don't know how much of an influence my career had on them," Len Esau said. "When it comes to sports, boys will be boys. That being said, there's a place for girls in sports too, but it's been more so our sons who have shown a strong interest in them. I never pushed them into it either, I definitely encourage and support them."
In addition to Dylan and Brett, Esau and his wife, Pam, also have two daughters. Madison is a teacher in Edmonton while Karlee is a third-year nursing student.
So far this season, Esau had six goals and one assist for the Stars in 22 games. Meanwhile, Cantre has yet to score since joining Beardy's, but he has garnered two assists in 21 games. Battlefords currently sits eighth overall in the 12-team league with a 9-11-0-2 record, while Beardy's is 10th with a record of 8-11-0-2.
According to Battlefords Stars head coach Jean Fauchon, Dylan Esau is one of the team's younger players who truly stepped up his game during the encounter on Flying Dust.
"I had a feeling he would do well, that's why I put him out there, and it paid off," Fauchon said. "I know it meant a lot to him, and having so much success at home will give him extra confidence to allow him to contribute even more to the team."
He also said the annual MLTC fundraiser is an important event for his team to be a part of.
"We look forward to this game every year," he noted. "It's nice to get out there and showcase the level of talent our league has. We're always treated well and it's a very well-organized event."
Terrance Sylvestre, MLTC youth development coordinator, said the overall amount raised during last week's game has yet to be determined, but did confirm the money will be used to support sport and culture in the various MLTC communities.
"The game was also an opportunity for some of our young athletes to see some high-calibre hockey, which will hopefully give them something more to aspire to," Sylvestre said. "That's why it was great to have two local boys – Esau and Cantre – playing because it shows our youth, if they work hard, they too can reach that level some day."