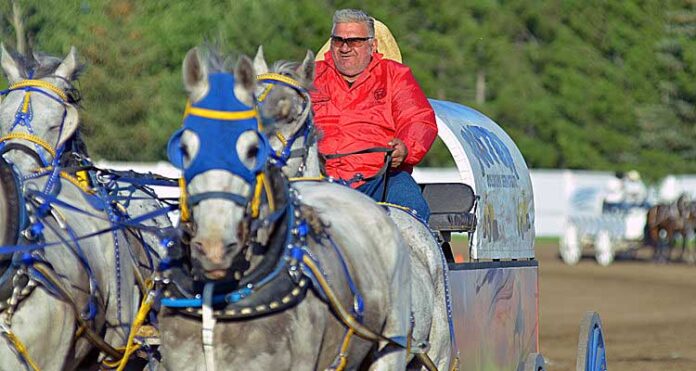 by Phil Ambroziak
It takes a King to know a King.
At the behest of DJ King, his nephew and Canadian Professional Chuckwagon Association (CPCA) driver, veteran driver Daniel King has agreed to make his return to the circuit this season.
"I'm going to drive one more year with the CPCA because DJ kept bugging me to do it," King remarked. "I think he's hoping we will have a chance to race together – he wants to challenge me."
Daniel King has competed off and on for several years in the CPCA, but most recently drove in the Alberta-based Western Chuckwagon Association (WCA).
"I drove in the WCA for one summer (2015), but have been involved in chuckwagon racing as a whole for a quite a while," King added. "I was with the CPCA, quit, joined again, left again – I like change. There isn't much difference between the WCA and the CPCA, though, except in the WCA you don't have outriders."
However, King went on to say he has what it takes to adapt quickly and to make the most of what will indeed be his final CPCA run.
"It will be my very last year with the CPCA because I'm that old," he said. "The cutoff age is 65 and I will turn 65 before the start of the 2018 season, so this will be it."
Win or lose, he continued, he's just happy to be coming back.
Among those also pleased to see King return is fellow chuckwagon driver and CPCA director BJ Carey.
"Along with Daniel, also new to the CPCA this year will be rookie driver Louis Stanley of Frog Lake," Carey said. "It's always good to have new people come in. It adds to our sport, which is something we want to see grow not see depleted."
Carey also said, although no details have been ironed out and nothing is confirmed, efforts are underway to have an event in July to accommodate drivers who are not competing at the 2017 Calgary Stampede.
This news also comes on the heels of a recent announcement confirming the Lloydminster Agricultural Exhibition Association, which will host the CPCA finals again this year, has a new corporate sponsor in the form of Denham Chrysler. As such, the finals have been rebranded Denham's Ram Tough CPCA Finals.