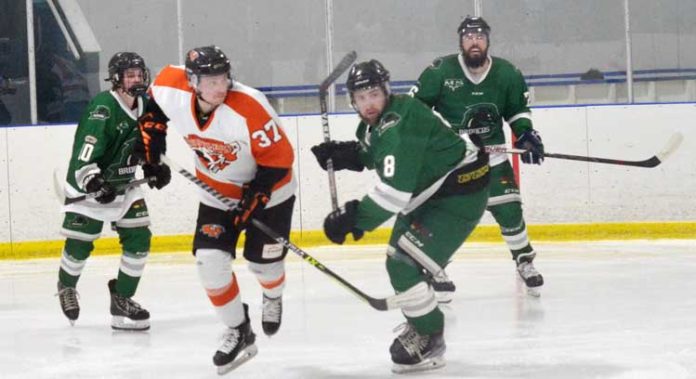 The Meadow Lake Senior Broncos' winning ways continue.

The Broncos went undefeated in two home games this past weekend, overcoming the Wainwright Rustlers Saturday night (Jan. 14) at PineRidge Ford Place and whacking the Hillmond Hitmen in another exciting encounter Sunday evening (Jan. 15).

"We had a slow start to Saturday's Wainwright game – it's a good thing our goalie, Jared Lafond, performed excellently that first period because the Rustlers were the better team for the first 20 minutes," explained Broncos head coach Winston Morin. "We were, however, able to even things up in the second period and, in the third, we were the better team."

The final score was 5-3 for Meadow Lake. Scoring for the Broncos were Alex Vidal, Shane Hounsell, Dwight King, Calvin Fiddler and Adam Mirasty.

Sunday's game against Hillmond, meanwhile, was a make-up game. The contest was originally scheduled to take place before Christmas but, for unforeseen circumstances, had to be rescheduled to the New Year.

"In that game, we were strong all the way though," Morin said. "It was close early on, but we gradually opened it up and eventually won 7-2."

Scoring Sunday were Colby Stanley with the hat trick with single markers from Hounsell, King, Ashton McIntyre and affiliate player Marshall Senger.

"He is a Midget player, and this was his first goal in Senior hockey," Morin noted.

The Broncos have now won three games in a row including the previous weekend's victory over St. Walburg.

"We've been having a full roster every night, and the players are unselfish – they are just playing really good hockey," Morin said. "Once we have all our players, it's a good sign things will work out well."

This coming weekend, the Broncos are at home Saturday when they host the Kitscoty Monarchs. The puck drops at 9 p.m. The following week the team will be in Dewberry for a make-up game with the Mustangs. Dewberry comes to Meadow Lake the following Friday and the final game of the season for Meadow Lake is Jan. 28 against Elk Point.

"We're trying to get into playoff mode here as the season winds down, so, hopefully, we continue to play good hockey," Morin said.
by Phil Ambroziak