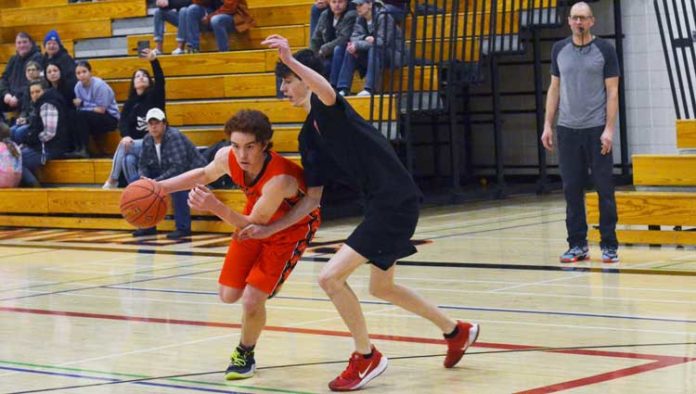 Three days of action resulted in a fourth-place finish for the Carpenter High School girls 'A' basketball team.

The squad was in Moose Jaw Jan. 12-14 to compete in a 16-team tournament, primarily made up of 5A teams.

"We started Thursday night against Melfort, another 4A team in our division," explained CHS girls basketball coach Kendra Paramchuk. "The girls came out quite strong and ended up winning 66-33."

This put the Spartans on the 'A' side of the draw where they next faced the hometown team from Vanier Collegiate.

"That game took place Friday and was super close the whole way," Paramchuk said. "Offensively, it wasn't the best game for either team, but both sides showed great defence. It came down to the final minutes of the game, and we ended up winning 43-40."

In the semi-final held Saturday, CHS met the 5A team from Swift Current.

"They have had a strong program the last couple years, and, as such, we ended up losing 58-22," Paramchuk said. "It was a frustrating game because we had a lot of opportunities to put the ball in the hoop, but the girls matched up quite well defensively and held them to 58 points. This made us very happy with as a coaching staff."

The semi-final loss landed CHS in the third-place game against Carleton Comprehensive from Prince Albert.

"We played them once this year at our very first tournament, so kind of knew what to look for," Paramchuk noted. "Unfortunately, we lost 56-38. However, anything on Saturday was a bonus for us because there were so many 5A teams and we're a 4A squad. I liked the intensity the girls came out with, but, even with a number of chances to score, we just couldn't put the ball in the hoop. The girls were fourth out of 16 teams, so we we're extremely happy. Of all the teams that were there, we were also the only 4A team to make the semi-finals."

Paramchuk went on to say playing so many good teams will only make CHS better.

"It's good to play stronger, bigger and faster teams and we definitely saw that in Moose Jaw," she said.

Exams are coming up next week at CHS, so there will be no games for the girls basketball team until Jan. 27 and 28 when the squad travels to Melfort

"We will see more 4A teams, some of which we haven't competed against yet," Paramchuk said. "We will continue to polish what we have been working on and I believe that will help us as we continue our road to provincials."

Meanwhile, the CHS boys 'A' basketball team was originally scheduled to host its home tournament this past weekend, an event that was cancelled and instead replaced with an alumni game between CHS athletes past and present.

"We had a great time during the game," stated CHS boys basketball coach Jesse Shakotko. "A huge thank you to all who came and watched, and supported our team. Also, thanks to all the alumni who were able to come back. It was great to see everyone again."

Shakotko also said the originally scheduled home tournament was called off when a few of the other teams cancelled for various reasons.

"Our boys were quite upset and rightly so, as it (home tournament) is the one chance they get to play at home in front of friends and family," he said. "We decided to have an alumni game to give them the chance to play in front of their community and I think it was a great substitute. We had alumni attend from 1996 all the way up to 2022. The game was close for a while, but, in the end, the alumni took over and won by 40 points."

Shakotko also said many more former athletes messaged him to say they were unable to attend but would love to come if the school hosts another one in a future year.

"We had a total of 19 alumni attend, and the community helped with donations to our team that amounted to more than $600," Shakotko added. "We are very grateful for this. The money will go toward helping cover cost for hotels and possibly some Spartan gear for the boys."

Next up, the boys travel to Melfort and play the Yorkton Regional 5A team in its first game.
by Phil Ambroziak