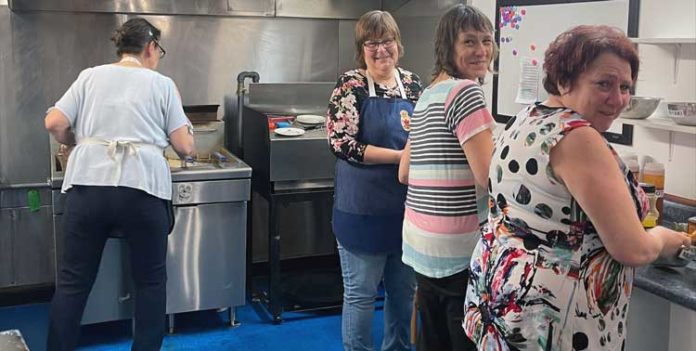 When it comes to giving back, Royal Canadian Legion Branch 76 in Meadow Lake isn't winging it.

In fact, a great deal of thought and effort have already gone into a new initiative organized by the Legion and several local partners as a way of raising funds for a number of causes throughout the community.

"We have 45 partners," explained Royal Canadian Legion Branch 76 president Jo-Anne Carter. "On a five-week rotation, nine of these partners, as well as the Legion, will donate $1 each for every wing order sold during the Legion's weekly wing night. If we sell 50 orders of wings, for example, a total of $500 will go to the non-profit group being supported that particular week."

Carter went on to say various groups and organizations from Meadow Lake and the surrounding area will often ask the Legion for donations.

"Even though we always try to give some money, we can't always give large amounts – only a little bit to each group," she said. "We wanted to find a way to give more, and that's when I came up with this idea.

The fundraising initiative, which begins tomorrow (Friday, Jan. 13), will continue throughout the entire year, with the five-week sponsorship rotation occurring about eight times throughout the year. Wing nights are traditionally held Friday evenings from 5 to 8 p.m. at the Legion, and, each week, a different non-profit group will benefit from the proceeds raised.

Some of the organizations the Legion and its partners will be supporting include the Meadow Lake and District Humane Society, People Advocating for Children with Exceptionalities, Healing Haven Wildlife Rescue, the Northwest Community Lodge Association, the Meadow Lake Hospital Foundation, the RCMP Youth Advisory Committee, Mothers Against Drunk Driving, the Meadow Lake 4-H Beef Club, the Meadow Lake Kinsmen, Turning Point Youth Centre and Flying Dust Youth. This Friday, the wing team knows as the Wing Slingers will be raising money for the Turning Point Youth Centre.

Carter, meanwhile, said the 45 sponsorship partners were happy to come on board considering they, much like the Legion, are often approached for donations from local non-profit groups.

"I began approaching the various sponsors back in October," Carter noted.

Kassidy Dunsing, a local volunteer who leads one of the wing teams which man the kitchen during wing nights, said Carter's idea was something the sponsors were able to easily get behind.

"What sparked as a small idea to give back kind of turned into something huge," Dunsing said.

Carter agreed.

"The Legion is fortunate to be able to give a little bit (of financial support), but, without the community's support, we wouldn't be able to give anything," she said. "This is a way to give back to those who support us. We just went through our poppy account, and the support we received was amazing. This is one way we can give back to the community which has given so much to us. We can't afford to give away $1,000 a week, but if we team with local businesses and all chip in a little bit, maybe we can give away that much some weeks."

Money aside, Dunsing said the wing night fundraiser is also beneficial to the non-profit groups in another way.

"Typically, when a non-profit organization is given an opportunity like this, they need to send members from their team to be a part of it," she said. "But, with this, they don't have to do anything. Our wing teams are going to do the work, we're going to advertise their non-profit, we'd love to have them there to share information about their group, but, for the most part, the groups will receive their donations and not have to do any of the work."

Dunsing also said the wing night initiative could be a great way of directing more traffic to the Legion itself.

"I see a lot of potentials there," she said. "The Legion is incredibly safe. It has the best atmosphere I have been able to find. There's a lot of potential to reach my age group, my generation, and I believe this will be huge in terms of raising awareness. I believe there is a lot of people my age who don't even realize wing nights are a thing… the Legion holds so much value. I believe this will help the Legion be top-of-mind."

Carter echoed this.

"This is a great way of supporting our community one wing night at a time," she said.
For more information, Carter can be reached at 306-240-9383 while Dunsing can also be contacted at 306-845-8356.
by Phil Ambroziak