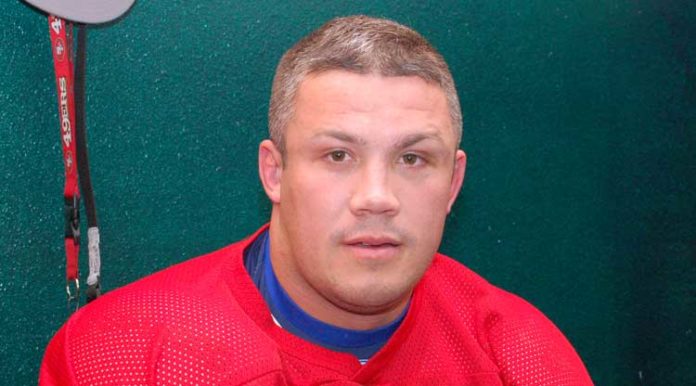 From the penalty box to politics, Jon Mirasty is the newest member of Flying Dust First Nation council.

Mirasty, a former pro hockey player turned actor with a recurring role on the TV show Shoresy, was the successful candidate in a five-person by-election for the lone council seat vacated when former councillor Tyson Bear was elected FDFN chief last November. The by-election was held last Tuesday (March 14).

"It's an honour to be able to lead my community," Mirasty told Northern Pride in response to his victory. "Over the years, since I've been home, I've sort of filled that role without the title, but it's nice to now be a member of council. I have some huge visions for my community, I've done a lot of work with our youth in the past and we've had a fair bit of struggles, but my goal is to come in here and unite the community a little more. We have great leadership in place right now, and I look forward to working with them and bringing forward my experiences. I've travelled the world as part of my hockey career and I've gained a lot of knowledge, and feel I have a lot to offer."

Mirasty went on to say he would like to use this opportunity as a way of also empowering Flying Dust youth.

"I'd like to show them a better way of life and to do whatever I can," Mirasty added. "I'm willing to step outside of my comfort zone and do what it takes to bring success to our reserve, our nation and our people."

Mirasty was also a candidate for chief last fall, finishing in second place behind Bear.

"I 100 per cent plan to bring to the table the same things I wanted to bring forward if I had been elected chief," Mirasty continued. "To be honest, I didn't really campaign for council because nothing has changed. My vision is the same. I'm just here to help any way I can and to help the team move in a positive direction."

When he ran for chief last fall, Mirasty again spoke about empowering the people of Flying Dust. He also spoke favourably about enriching elders, preserving the health and well-being of FDFN members, regularly scheduling community-led forums regarding progress and decisions, transparency, accountability to members and those in roles who serve the community, enhancing justice programming, membership inclusivity, community based initiatives and interactions for all citizens, fiscal responsibility, and continued growth for a self-sufficient economy.

"Transparency is a big thing," he said at the time. "I would like to see a very transparent leadership so people who are concerned with what's going on in the community will be keyed in on what's going on. Being fair and equal is a also good thing."

In addition to Election Day itself March 14, polls were also held in North Battleford, Edmonton and Saskatoon for FDFN members living off-reserve. Mail-in ballots were also accepted.

"The results were announced around 10 p.m.," Mirasty noted.

Also in the running were Cheryl Bear, Samantha Bear, Patrick Derocher and Shayne Gladue.

"I won by about a 50-vote margin," Mirasty said. "I want to give my thumbs up to the other candidates because it takes a lot to put your name out there. I want to acknowledge them and I am sure every single one of them has something good to offer the community. They should never give up. I considered myself a leader in the past without the title, and we all need to work together. We're all close on the reserve, and we need to move forward together."
by Phil Ambroziak