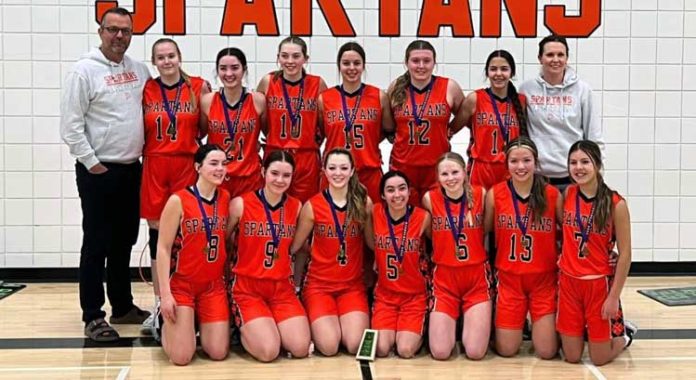 The champs are here!

Carpenter High School's girl's 'A' basketball team did not disappoint the hometown crowd on hand for Saturday's (March 18) Saskatchewan High Schools Athletic Association (SHSAA) regional final, winning the championship over the opposing Humboldt Mohawks and earning a spot at SHSAA 4A provincials in Prince Albert March 24 and 25.

"The girls played super well," remarked CHS girls basketball head coach Kendra Paramchuk.

CHS was ranked first overall heading into regionals and, because of an odd number of 4A teams, received a bye into the finals. Meanwhile, Humboldt faced Martensville Friday at CHS to advance to Saturday's game against the Spartans.

"There was an awkward wait time because we were ready to play Friday, but had to wait and see who the Humboldt-Martensville winner would be," Paramchuk continued.

In the end, CHS defeated Humboldt by a score of 82-31.

"Everybody got minutes on the court, which was great because – being in front of your hometown crowd – it's nice to have an opportunity to showcase your skills," Paramchuk said. "The finals took place at 10:30 a.m. Saturday and the fans showed up. We were happy to compete in front of them. We came out strong, pressed our opponents and took a strong lead, and then just rolled our lines after that. All our girls played very well, the nerves were there a little bit because they wanted to get to HOOPLA. The girls came out firing, it was the last home game for our Grade 12 athletes but there's still a lot to look forward to."

HOOPLA (SHSAA provincials) will see CHS face Lumsden Friday, while the winner of that game will face the winner of Moose Jaw Central and Moose Jaw Vanier in the gold medal game. The two losing teams will face each other in the bronze medal game.

"I honestly feel our girls have a shot at winning gold," Paramchuk said. "They deserve it. They've worked hard, and we just need to continue to do what we do best – come out aggressive, run the floor and they should make the final if everything goes as planned. No matter what happens, though, they've had a super season. However, I do see them potentially bringing home some gold medals."

As for the CHS boys 'A' basketball team, the season came to a close after they failed to win at the regional playoffs held this past weekend in Melfort.

"We ended up ranked seventh going into regionals, which was a little lower than I thought we would be," stated CHS boys basketball coach Jesse Shakotko. "There were some teams we didn't fare well against earlier in the season, and ended up playing the 10th-ranked Melville team. We played well, everyone got to contribute, and we won by about 20 points."

This put CHS up against the second-place Melfort in the team's next game.

"We didn't start very well and were down about 8-0," Shakotko said. "By the half we were only down by 11, but Melfort then came out, did some different things and none of our shots were going in – we couldn't hit anything. The boys worked hard until the end, but it wasn't an overly great game. It just didn't want to work for us, and that happens sometimes."

The loss, and elimination, was very emotional for some of the CHS athletes.

"They realized their season was done, which is always hard," Shakotko noted. "Their goal was to get to HOOPLA and, when that doesn't happen, the kids are always a little sad. They bounced back quickly, however, and, by the bus ride home, they were their old selves again. It's been one of the season's when I have had the most fun with the kids. We didn't always win, but the team is super positive, everyone gets along, are super close – it's just been a really good season to be a part of and I am very grateful for that."
by Phil Ambroziak