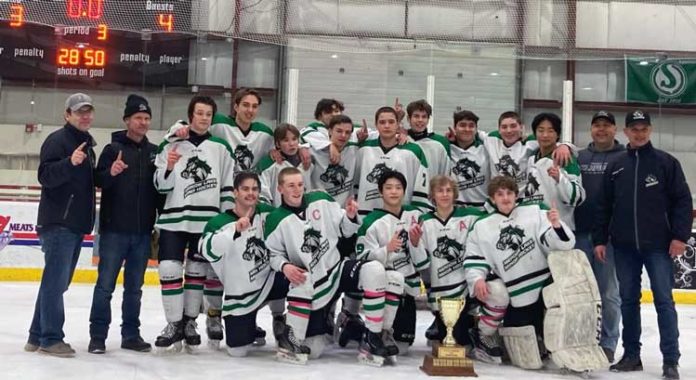 Two years in a row!

For the second straight season, the Meadow Lake U18 Stampeders have captured the STEP League championship. This year's win came Saturday night (March 25) when the Stamps defeated the league's first-place team from Hillmond.

"We had two U18 teams in Meadow Lake this season – two very strong teams (Stampeders and Broncos)," explained Stampeders coach Regan Beck. "We (Stampeders) were fortunate enough to stay healthy most of the year, which allowed us to finish second overall in league standings. Going into playoffs, we faced Battleford in the first round, beating them two straight. Next up, we met a combined team from Paradise Hill and St. Walburg in the semi-final, defeated them and then came up against the first-place team, Hillmond, in the final."

Meadow Lake squared off against Hillmond in Game 1 last Thursday (March 23) at PineRidge Ford Place on Flying Dust First Nation, emerging victorious by a score of 5-3 before heading to Hillmond Saturday to secure the championship.

"We were down late in the third period, but came back to win 4-3," Beck said. "It was a modified best-of-three series. This means, if Hillmond would have won Game 2, we would have had to play a 10-minute game immediately after. We were down 3-0 with 12 minutes left when my son, Reid Beck, scored. Then, Sean Fabish stepped over the blue line, took a wrist shot and surprised the goalie. Nait LaBrash then scored a rocket of a shot from the left top circles, tying the game 3-3."
Because of the modified system, if the game had ended there Meadow Lake would have still been declared the winner because Hillmond was in a must-win situation in order to force the third game.

"Hillmond then pulled their goalie and JinWoo Hyun scored an empty netter and things went crazy – to score four goals in such a short span is such a testament to the boys' abilities on the ice," Beck said. "Their goalie played fantastic, but finally the bubble burst enough for us to squeak by with a win."

Beck went on to praise his team, stating the boys have been a very nice group of youngsters to work with.

"These guys showed up to every practice, every game and they worked hard," he said. "They bought in right away. The boys really believed in winning that league championship and I am super proud of the way they played… It was a real nice way to send off the third-year boys who played their last game of minor hockey. They won the league last year and are back-to-back champions. Not too many people can say that."

Meanwhile, the Meadow Lake U15 provincial team are currently 1-0 in their provincial final series against Lumsden. Meadow Lake defeated Lumsden 6-1 Friday (March 24) and will return to PineRidge Ford Place for Game 2 Friday night (March 31) at 8:30 p.m.

This series is also a modified best-of-three meaning, if Meadow Lake wins Friday, the team will be crowned provincial champions.
by Phil Ambroziak