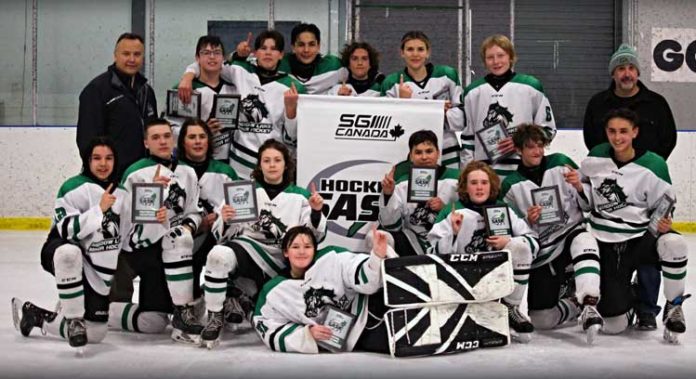 The U15 Stampeders provincial hockey team recently capped off the 2022-23 season the best way possible.

In front of a hometown crowd at PineRidge Ford Place on Flying Dust First Nation, the Stamps defeated the Lumsden Lions Friday (March 31) to be crowned provincial champions. Going into Game 2 of the modified series with a victory already under their belts, the Stampeders still had to give it their all to earn the provincial title.

"In Game 2, we fell behind early and Lumsden played really well, controlled the play most of the game and ended up getting the win," explained Stampeders coach Dustin Treptow.

With the series now tied at one game apiece, the modified frame meant, immediately following Friday's game, a shortened Game 3 was held to determine the overall winner.

"We immediately went into the 10-minute mini game, came out with a little better start and and scored early on," Treptow continued. "Lumsden tied things up about halfway through, and time ran out with the score tied."

This led to a 20-minute, sudden death period.

"We controlled most of the play during sudden death and, about eight minutes in, we scored the goal to win Game 3," Treptow said. "The kids did a really good job of keeping their composure… We've had to go to Game 3 before, so that was nothing new to us. We understand, once you get deeper into provincials, all the teams are good and, depending on the day, can probably win. Like I said, our team was really good at keeping its composure, applying pressure when it mattered most and eventually scoring that goal."

The provincial championship win marks the end of minor hockey season in Meadow Lake for another year.

"It was a really great month of play for this team, and a great way to end the season," Treptow noted. "It's been a long time since we've had a provincial championship win at home – None I can remember at the minor hockey level for a long time. It's something special for the kids, so, hopefully, this will be a memory that sticks with them for a long time to come."
by Phil Ambroziak