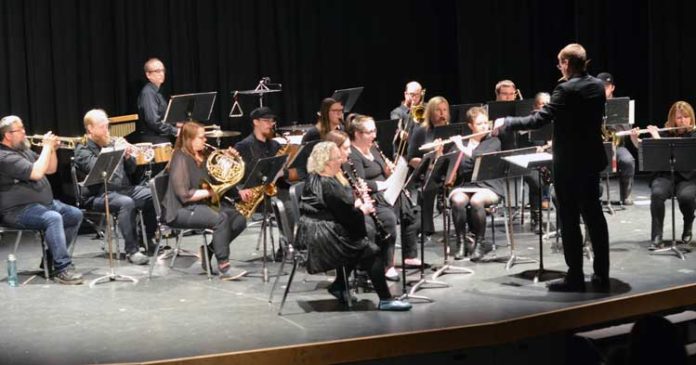 There was indeed music in the air in Meadow Lake Monday night (April 3).

That's because – for the first time ever – the newly formed Meadow Lake New Horizons Band took centre stage for a public performance, something band director Ben Giesbrecht has been looking forward to for a long time.

"This (band) has been something I wanted to do since my wife, Kayla, and I moved here four-and-a-half years ago," Giesbrecht said. "Being first-year teachers at the time, we didn't have too many connections in the beginning to get something like this started. We did have some conversations our first year, then, in spring 2020, schools were not available for rentals and things were starting to look different throughout the world (because of the COVID-19 pandemic). We had to wait a few years until finally we were back to a point where we could do it."

The band is comprised of a number of Meadow Lake and area residents of varying levels of experience when it comes to music. And, while the group did perform publicly at Royal Canadian Legion Branch 76's Remembrance Day ceremony last November as well as at a school Christmas band concert in December, Monday's spring music recital was the first time the band has put on a show of its own.

"We performed eight pieces – it was a fairly short concert compared to most," Giesbrecht said.
As for the band itself, once the wheels were in motion things quickly fell into place.

"We had support from the Saskatchewan Band Association, both financially and in terms of guidance for starting a community band," Giesbrecht said. "We also had some help from the New Horizons International Music Association, which is where the name 'New Horizons' comes from. That is a charity in the U.S. that specializes in making community ensembles welcome for beginners or for people who haven't touched an instrument in a really long time. For most of our members, it was 10 years or more since the last time they had a chance to play."

One such member is Cari Moffet who plays the alto saxophone in the Meadow Lake New Horizons Band.

"I loved band when I was a kid," Moffet said. "But, I hadn't played since 1991, so I thought I would try it out… You go there, you laugh, you play a little bit, you squeak, it's quite fun. A lot of the comments on the night are how much fun it is just to gather and learn something new."

When in high school, Moffet was a member of the school's jazz band as well as the school concert band.

"I learned a lot from Terry Paley and John Gibson who were my directors when I was a kid," she said. "They're still around and they should be coming out to this band, but they haven't shown their faces yet… To pass the time in the winter, we meet Monday nights and many people, including me, say it's their favourite night of the week. Band is something pretty easy to show up to because, again, it's just so much fun."

Currently, the band has 18 members who participate fairly regularly (the band meets weekly at CHS) and a handful who registered and who take part off and on.

"We're excited for the possibility of new members," Giesbrecht continued. "We know a few people who have been interested but hesitant, but since we've been at this a year now and ready to start our second, I think that will encourage more people to become a little more invested."

Moffet agreed.

"We are looking for more people to join and it doesn't matter what level anyone is at – the fuller the band the better," she said. "When you're in a musical group, it's not as nerve-racking as when you're solo. There's something different about being in a band – you're listening and supporting each other with your part. I compare it to being part of a team sport."

Giesbrecht also said a goal of the group is to give school students who are in band more of a long-term picture of how they can keep playing and not have to be a professional.

"I'm very excited because the group has done so well," he added. "They've worked so hard and I thought the first year would feel like a beginner band, but they have really stepped it up."

Moffet, meanwhile, said a big part of this is a result of Giesbrecht's influence.

"We have a lot of respect for Ben and his own talent," she said. "He has a YouTube channel where he plays one of our pieces, but he's playing every singe instrument in it. It's very impressive. He has a lot of talent and we have a lot of respect for him and for his ability to bring us all together, and to get us all to enjoy performing music again."
by Phil Ambroziak