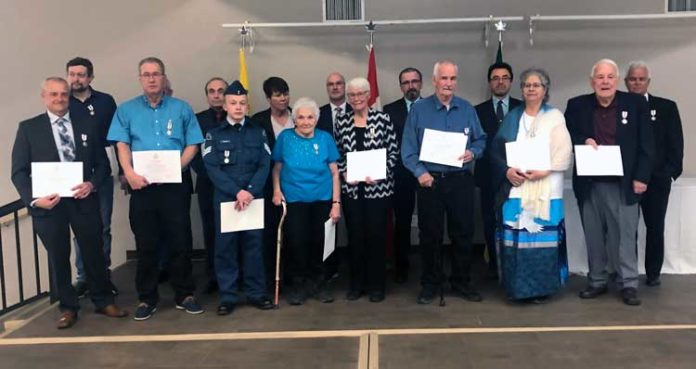 Eleven more Meadow Lake residents were recognized recently for their contributions to their community.

The City of Meadow Lake hosted a special ceremony Monday evening (April 3) at the Meadow Lake Civic Centre at which time select members of the community were presented with a Queen Elizabeth II Platinum Jubilee Medal. The ceremony was emceed by Meadow Lake fire chief Joe Grela.

"Today we are gathered to honour those who have devoted their time as well as their talents to the service of their community, our province and our country," Grela remarked.

The Queen Elizabeth II Platinum Jubilee Medal was created to celebrate the 70th anniversary of Queen Elizabeth II's accession to the throne, which began Feb. 6 of last year. The medal is a tangible way for the province of Saskatchewan to honour Her Majesty for her service to Canada. A total of 7,000 medals were awarded at ceremonies held throughout the province.

"While her passing on Sept. 8, 2022 makes our celebration bittersweet, it also makes the honour particularly special as we remember the spirit of duty which she served so selflessly," Grela continued. "Her late Majesty expressed her wish Jubilee events be an occasion for enjoying a sense of togetherness and optimism about the future, which makes today the perfect opportunity to celebrate the achievements of people who make our community better. Today's medal recipients lead rather than wait to be led. They tackle challenges head on, they see problems as opportunities instead of obstacles."

The recent medal recipients include mayor Merlin Seymour, volunteer Nels Andersen, Mark Dallyn of Healing Haven Wildlife Rescue, volunteer Kurt Hadland, Northwest School Division director of education Duane Hauk, volunteer Gladys Joseph, former Meadow Lake fire chief Neil Marsh, volunteers Cecil Midgett, Jack Moffet and Mary Smith, as well as air cadet Koen Vermette for his fundraising work.

"Congratulations to everyone receiving this special distinction," Grela added.

Meanwhile, in addition to receiving a medal himself, Seymour addressed the audience on behalf of the City of Meadow Lake.

"I would like to congratulate all the recipients being awarded this medal today," Seymour said. "It's my privilege to be here as we celebrate those who have contributed to our community in lasting and meaningful ways. I am proud to represent a city filled with people willing to step forward and become involved in making their community a better place. Your hard work and enthusiasm benefit so many, and we should be proud of your accomplishments. It is important to us as city council to recognize devoted community members such as yourselves who strive to help others and make a difference. Those who are receiving medals this evening were nominated by those around them, as well as city council. You have enriched our community and deserve recognition."

A similar ceremony, hosted by Meadow Lake MLA Jeremy Harrison, took place Oct. 29 of last year to honour 40 Meadow Lake and area residents, while QEII Platinum Jubilee Medals have also been presented to even more residents at various ceremonies and functions in the months since.
by Phil Ambroziak