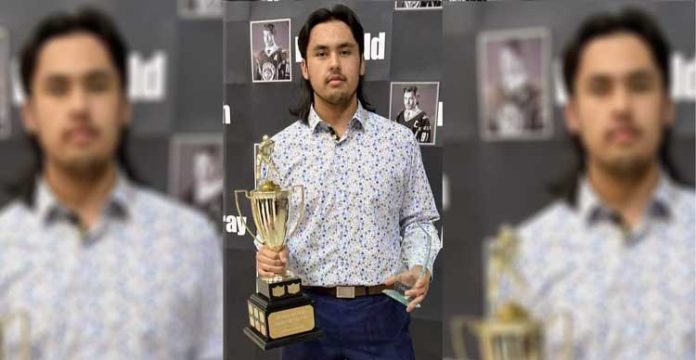 The Junior 'A' hockey career of Meadow Lake's Easton DeBray is off to a bright start.

DeBray, 19, is a member of the Superior International Junior Hockey League's (SIJHL) Dryden GM Ice Dogs and, last week, was named the team's Rookie of the Year. It's an honour DeBray said he is extremely proud to have achieved.

"It's a team award, presented to the rookie player who has had a pretty good year," DeBray told Northern Pride. "I have been having a great year. I really gained a newfound confidence, put up some points and felt I was deserving of the award."

DeBray, who plays defence for the team, joined the Ice Dogs at the start of the 2022-23 season. In the regular season, he competed in 49 games, scored nine goals and earned 23 assists for 32 points.

"I'm a defenceman, but my offensive game really excelled this year," he said. "I went from having nine points last year to having 32 in about the same amount of games. That's a pretty big jump. I believe the confidence I gained throughout the season allowed me to make the necessary plays and to improve my abilities."

DeBray, the son of Meadow Lake's Clay DeBray and stepson of Amanda Dufresne, was presented with the Rookie of the Year Award at the Ice Dogs' team banquet Sunday night (April 16). He also received an honourable mention in terms of the SIJHL League Defenceman and Rookie of the Year honours.

"I couldn't achieve this without the help of everyone within the Ice Dogs organization," he noted. "I couldn't have done as well as I did without my teammates. They were always there to support me both on and off the ice. They gave me the key passes that allowed me to create opportunities. My coaches also gave me the ice time and allowed me to showcase my abilities. Even people outside the team – volunteers, billets and so on – all supported me and allowed me to have a great year."

DeBray still has two more years of Junior hockey ahead of him.

"I would like to keep playing and see how far it takes me," he said. "Right now the focus remains on hockey."

As of press time, the Ice Dogs and the Thunder Bay North Stars were tied three games apiece in SIJHL semi-final playoff action.

Game 7 is scheduled for tonight (April 20).
by Phil Ambroziak