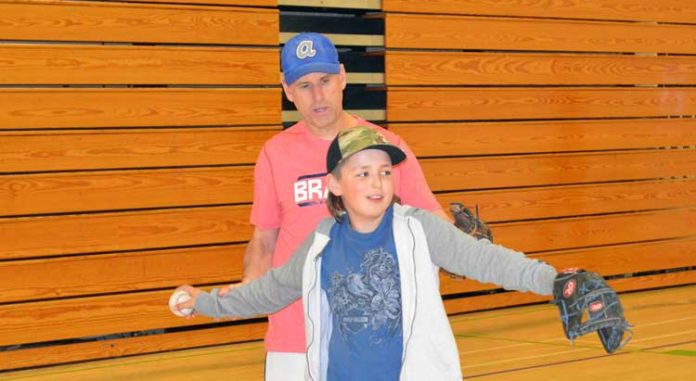 Spring is in the air, which means baseball season is just around the corner in Meadow Lake.

Since mid-March, the Meadow Lake Senior Sox have been hosting the team's annual pitching clinic at Carpenter High School. Designed to improve the pitching and throwing skills of a wide array of young baseball players, the clinic takes place Thursdays and will wrap up later this month.

"The clinic goes for six weeks total, seven this year because we took a break partway through," explained veteran Sox pitcher Craig Weran. "We've been doing this for about six or eight years in this format… It gets the kids starting to throw a bit before their baseball season starts."

Weran went on to say, what often happens is, Meadow Lake Minor Baseball players get out on the diamond as soon as it's dry enough in early May, and it's not unusual to have one practice or maybe a couple of practices before they start playing.

"The kids largely haven't thrown a ball at that point and they end up dealing with sore arms and stuff about two or three weeks down the road," he added. "This clinic is an effort to minimize some of the soreness and some of these injures by getting the kids throwing in the middle of March. This gets them prepared for the start of the season. Yes, it's mostly a pitching clinic but, some of these kids are pretty young and as, 11U ball players, it's sometimes their first opportunity to learn about the mechanics of pitching. We're able to help them so, when they get that opportunity in a game situation, they're comfortable on the mound."

A typical session includes some warmup drills before the throwing begins.

"We spend a few minutes running and stretching," Weran said. "One thing we are adamant about teaching the kids is we do not throw in order to warm up. We warm up in order to start throwing. We'll run for a few minutes, stretch for a few minutes, we'll review proper grip and get them going through a couple drills – one focusing on the upper body, shoulders, arms, and the other focusing on adding what happens in the lower body with their legs when throwing a ball. We'll get them playing catch and go through a lot of the mechanics with footwork on the mound. This is so important in terms of delivery."

With older athletes, Weran said the clinic offers some more advanced teachings.

"In the older age categories, base runners can lead off, so pitchers need to know how to do a different kind of throw," he said. "We also get into curve balls, change ups and the grips for those types of pitches as well."

Weran also said attendance for this year's clinic has been slightly lower than what organizers have seen in the past.

"It's in the neighbourhood of 50-55 in total – about 30 in the younger age group and about 25 or so split between the 13U, 15U and 18U players," he said.

As noted, minor baseball gets underway in early May while the Senior Sox normally start the week before the May long weekend. The schedule is expected to be released this week.

"We're happy to have people come out and support this clinic, and to give their kids a bit of a running start before the season begins," Weran concluded.
by Phil Ambroziak