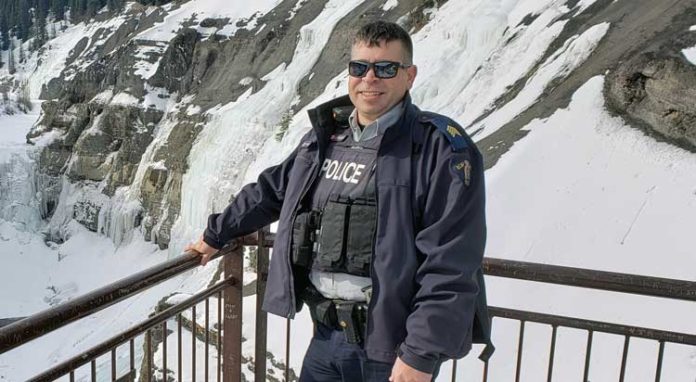 There's a new gun in town when it comes to local RCMP leadership.
S/Sgt. Carl Dinsdale has arrived in Meadow Lake and will serve as the new Meadow Lake RCMP detachment commander, a role he said he is looking forward to immersing himself in once settled in to his new surroundings.
"I started in Meadow Lake May 4, but I'm still in the middle of settling into the area," Dinsdale told Northern Pride. "My office looks like a tornado hit it because of the chaos of unpacking and getting accounts switched over from Alberta to Saskatchewan – there's always a lot of housekeeping involved in big moves like this."

Dinsdale has served with the RCMP for more than 27 years.

"I started in Manitoba in an isolated fly-in post as my first posting followed by a second limited duration post in Manitoba before I promoted to corporal and went to North Battleford," he said. "From there, I promoted to sergeant in Prince Albert, then on to the Shellbrook detachment as the sergeant in charge there. I then went back to North Battleford because I'm a sucker for punishment, worked there for close to six years before promoting to staff sergeant in Rocky Mountain House, AB in 2019."

His arrival in Alberta, Dinsdale said, came along around the same time as the COVID-19 pandemic.

"The pandemic kind of shadowed my posting there," Dinsdale noted. "With all the restrictions and measures in place, it really cheated my experience somewhat. However, I did have Meadow Lake as one of my desired postings for a long time."

Dinsdale and his wife, Brenda, have five grown children and seven grandchildren, all of whom live in different parts of Saskatchewan.

"We thought Alberta wouldn't be too far away, but, realistically, it was a nine or 10-hour drive for those kids and grandkids to come see us and we weren't seeing them as much as we would have liked," Dinsdale said. "Then, an opportunity arose where Meadow Lake was looking for a new detachment commander. Alberta owed Saskatchewan a senior NCO for some reason or another, they found I had Meadow Lake on my wish list and asked me if I would be interested in coming here. We're very happy to be back in Saskatchewan and to be in Meadow Lake."

Although Dinsdale has never lived in Meadow Lake before, he is somewhat familiar with the community and its surroundings.

"I've known it roughly from a period of time I spent with Indigenous Policing Services, and my father – when he retired from the military back in 1990 – he and my mother moved to Beauval," he said. "When I would visit them, it would always involve trips into Meadow Lake for adopting and whatnot. The policing landscape is very similar to what I left in Rocky Mountain House – a large rural area, the Indigenous policing component and the policing of the town itself."

Prior to his career in policing, Dinsdale served six years in the Canadian Armed Forces.

"At that time, the writing was on the wall very quickly I would be away a lot – six months or better at a time," he said. "That wasn't how I wanted to raise a family, but I wanted to stay in uniformed service and wanted to continue to serve my country in some capacity. The RCMP seemed like a natural progression, I applied and away I went."

Since arriving at the Meadow Lake detachment, Dinsdale said he likes what he sees.

"Meadow Lake has obviously experienced a lot of growth in the last 30 years I've known the community," he said. "It's changed, but it all looks to be very positive growth and I'm really thrilled to see the progressiveness of Flying Dust First Nation and the cooperation between the city and Flying Dust on a lot of projects and initiatives. It's fantastic to see both communities working together because, really, aside from a sign what really separates the two communities?"

Looking ahead, Dinsdale said he plans to ensure the people of all communities policed by the Meadow Lake detachment are satisfied with the service the RCMP provides.

"I just want people to have faith they are getting the best policing service possible," he said. "Certainly there are some specific crime issues we want to address and will continue to work toward addressing – violent crime, drugs, all the common things found everywhere. Property crime is another concern, especially rural property crime. Community engagement is also important. I want to reinvigorate the concept the police are the public, the public are the police. It doesn't matter what police force you have or where you are, policing in any given area is only as effective as the public allows it to be by way of providing information when you have it, cooperating with an investigation and so on. There's a real trend the last few years of people shying away from giving information they may have to the police… That really hinders our effectiveness."

In closing, Dinsdale reiterated the fact he and his wife are happy to be in Meadow Lake.

"We really look forward to getting to know the community and the people in the community," he said. "That will be our goal over the next few months. It's beautiful here."

Dinsdale also spoke highly of Sgt. Dean Kabaroff who served as acting detachment commander prior to Dinsdale's arrival.

"Dean will stay on in Meadow Lake, reverting back to his main role as the detachment operations and NCO," Dinsdale noted. "Dean did a fantastic job keeping things on the rails and making sure the police cars were still on the road, and concerns were addressed. I am extremely grateful for Dean and the work he's done the past six months."
by Phil Ambroziak