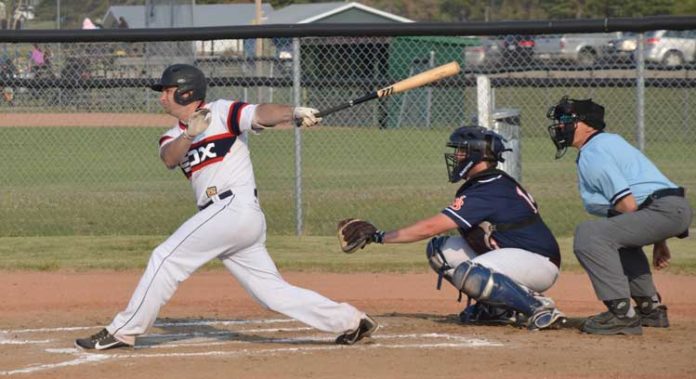 The diamond has fallen silent at Assman Field.

After a second-place finish in the 2023 North Saskatchewan River Baseball League (NSRBL) regular season, the Meadow Lake Senior Sox were eliminated in the second round of playoffs, falling two straight to the North Battleford Beavers.

"We were overwhelmed by a really good lineup in North Battleford, losing Game 2 (of the best-of-three series) 18-2," explained veteran Sox player and team manager Craig Weran when describing the Meadow Lake-North Battleford game held Tuesday (July 25). "Kevin Gerwing hit a two-run home run at the top of the first inning to give us a 2-0 lead, but that was as good as it got. We didn't have good enough pitching, we didn't hit the ball well enough, we scored two runs in two games and that's not going to get you very far."

Game 1 took place Sunday (July 23) and saw Meadow Lake lose 2-0 at home to the Beavers.

"Dylan Esau pitched for us and was electric – he pitched so well," Weran said. "He pitched all seven games and had 14 strikeouts. Unfortunately, we couldn't score any runs and that's a hard way to win a ball game. We had a lot of chances, but just couldn't score. That puts a lot on your pitching and your defence."

In the first round of playoffs, the Sox downed the Mervin Flyers in two games straight to advance.

"Game 1 was July 10 and we won 16-0," Weran said. "The next night, we travelled to Mervin and won 11-10."

Prior to playoffs, the Sox wrapped up the regular season with a series of games starting June 26 at home against the Mervin Flyers. Meadow Lake won that game 15-1. From there, the team defeated the Glaslyn Orioles 11-7, lost to Unity 2-0 and bounced back to defeat the Lloydminster Twins 9-1.
Looking back on the season as a whole, Weran said he is pleased with how well the Sox performed.

"We had a really good regular season, finishing second overall before winning the first round of playoffs in two games straight," he said. "Even our first game against North Battleford here at home Sunday night (July 23) was a really good game. We knew before making the trip to Battleford it was going to be tough. North Battleford has as good of a lineup as I've ever seen in this league and I've been around for a long time. They have some good hitters while we were missing some key guys… Overall, though, it was a good season. We're disappointed with how it ended but, all-in-all, not a terrible season."

The Standard Hill Lakers ended the NSRBL regular season ranked first overall.
by Phil Ambroziak