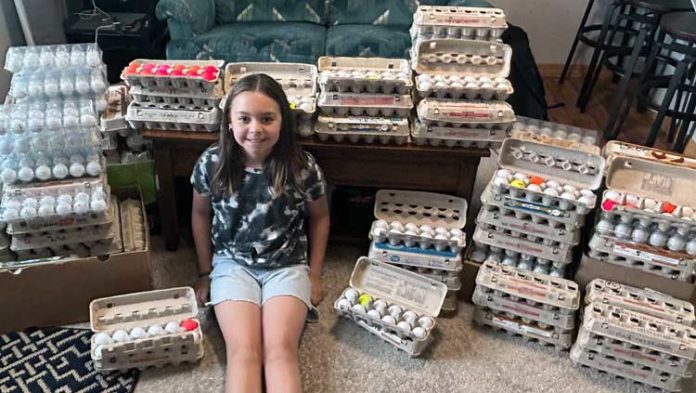 A local youth has hit a hole-in-one when it comes to finding a unique way to support the Meadow Lake Hospital Foundation.

Finnley Harrison, daughter of Meadow Lake MLA Jeremy Harrison and his wife, Alaina, recently donated $1,000 to the foundation – money she raised by selling to local golfers golf balls she finds with the help of her grandfather, Tom Harrison.

"They've found nearly 3,000 of them this year alone," Jeremy Harrison remarked. "She's been doing this for a few years now, but raised the most this year."

In fact, this is Finnley Harrison's third year selling golf balls. She collects, cleans, sorts and sells balls mainly found at the Meadow Lake Golf Club. This past year, however, she was also given some golf balls from a couple of generous individuals to help with this year's donation.

"Donating to the hospital foundation is important to me," Finnley Harrison said. "I want to give back and help them as much as I can."

Her father, meanwhile, stated how pleased he continues to be with his daughter's efforts.

"Alaina and I are very proud of Finn," Jeremy Harrison said. "This is something she is really passionate about and works hard at it.  We've tried to raise her to be community minded and she genuinely cares about helping others."

The Meadow Lake Hospital Foundation was established in 2002 as a non-profit charitable fundraising organization. Its mandate is to raise funds for medical equipment for the Meadow Lake Hospital.

"It's great to see a young person taking such initiative," stated Meadow Lake Hospital Foundation chair Scott Campbell. "She's done this for several years now and, usually she donates about $300. This year, however, she really went out of her way and was able to donate $1,000. Donations like that really make our fundraising efforts easier. We receive a number of donations throughout the year and it really goes a long way."

The foundation itself also holds various fundraising events and initiatives throughout the year.

"We held a charity barbecue at Home Hardware a few weeks ago and we have a number of other things ongoing, but donations such as the one made by Finn makes things so much better for us as board members," Campbell said. "It's nice to see people willing to give."

Finnley Harrison is entering Grade 7 this fall and her future goal is to become a doctor.
by Phil Ambroziak