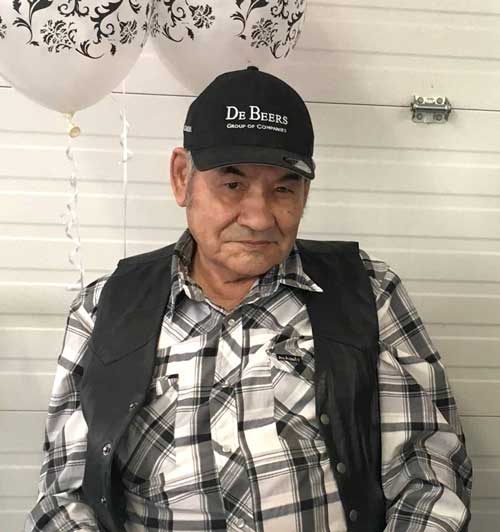 December 26, 1933 – April 9, 2023
Alex 'Duck Soup' Laliberte, born on December 26, 1933 has passed away peacefully at Woodland Manor April 9, 2023 in Hay River, NT at the age of 89.
Alex left behind his daughter, Gloria and granddaughter Jennifer, grandsons, Daniel (Rocky) and Clayton, all of Hay River. Alex had great grandchildren, Calvin and Kalista (Jennifer), Taylor (Steven), Jared and Steven (Rocky), Russell, Evan, Brendan, Zakyra and O'Donald, (Clayton), Ethan and Skyanna (Charles) His sister Theresa Laliberte of Meadow Lake. Alex also leaves behind his son Charles Laliberte and grandchildren, granddaughters Ashley Callingbull and Jaylynn Twin (Jason Twin).
Alex was originally from Green Lake and had been adopted very young and his biological family got in touch with him over the years. Alex's Lafond family always had a spot for him and leaves behind his sister Bridgette, Augustine and Bertha. Brothers from that family are Stanley, Roderick, Harry and Lionel. Three brothers passed, Albert, Dave and Theodore also, a sister, Georgina.
Alex also had 2 sons who passed, Leonard Coullineur and Jason Twin.
Alex lived an interesting and long life with his wife Irene until she passed early 2019. In the earlier years, Alex was a fisherman and equipment operator. Fishing was what Alex enjoyed and worked on the Great Slave Lake with sometimes the hired help of men in the family, including his son Leonard, grandson Steven (both passed), grandson Rocky, his Bell nephews, Floyd, Leonard and Gary. Alex will always be remembered for his kindness and generosity for all that knew him.
Rest now moushoom.