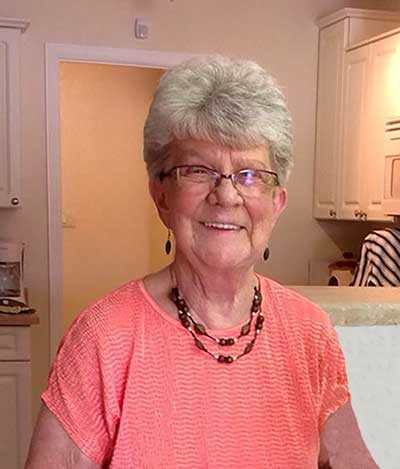 January 15, 1943 – June 11, 2023
Our family has lost our matriarch, mom passed away peacefully at Meadow Lake Hospital on June 11, 2023, shortly after a visit wiath family.
Mom was born in Edam on January 15, 1943, she spent her childhood years in the Robinhood district before moving to Meadow Lake where she met Allan Erickson whom she married in 1961 and they raised their family and resided the rest of her life.
Mom was the glue that bound our family, she was mom first, but her roles were many. The farm in Meadow River had many tasks over the years, from raising chickens, cattle, horses to the orchard, gardens, and grain farming, through the years she never shied away from any of the jobs that needed to be done. While Dad worked away much of the time, the burden of raising two children while maintaining a full-time career fell on mom. She managed our days of school, chores, sporting activities and adventures of living on a farm with no complaints, maybe a few arguments but never did she put herself first.
Mom was very intelligent and good with numbers, from the early days of working at the Meadow Lake Credit Union and then for Ray Cariou in his law practice and Ron McIvor in his accounting office to her retirement from Canada Manpower she was dedicated and professional in all she did. In her later years, mom kept her mind sharp doing Sudoku that most of us couldn't even understand.
Every mom can cook, Mom was exceptional and diverse in the many meals she created for all our family. Buns were always a hit, but we all had our favourites from the cabbage rolls to shrimp salad and everything in between we were always anxious to savour her cooking.
Mom enjoyed social life and her close friends were near and dear to her, so much so that we couldn't convince her to leave Meadow Lake. From TOPS, church, playing cards or her walking friends she made the most of her time with friends.
Her family was cherished and knew that mom would always be there to nurture and support us all, through good or bad times she was always there. She enjoyed family get togethers whether for holidays, time at the lake or just a visit she loved to spend time with all the family. Not well travelled, but Mom and Dad enjoyed RV vacations and organized tours to the east coast, Alaska, Nashville, and Iceland.
Mom was very personable and honest she was soft and compassionate, but could be very direct if she needed, she oversaw our family, and her guidance and determination charted the course for a great life.
Mom is predeceased by her husband Allan of 61 years; parents: Hubert and Gena Wood; and brother: Jack.
She is survived by her sister: Rose Gagnon; son: Erick (Carol) Erickson; daughter: Allison Roschker (Dale Lauinger); grand-children: Riley Carr, Kayla Holfeld (Derek), Erick Joel Erickson, Katelynn Roschker (Chris Freake), Braden Roschker, Chad (Dana) Lauinger, Shelly (Mike) Lantz; great grand-daughters: Sophie Holfeld and Presley Lantz; and great grandsons: Cole, Ryan and Drew Lauinger and Laken and Henley Lantz.
The family extends sincere appreciation to all of the friends who have comforted dad and assisted mom during her short illness and recent passing of dad. Special thanks to the Doctors and nurses at Meadow Lake Hospital who provided care to keep mom comfortable in her last days.
Nothing you would take
Everything you gave
Hold me til I die
Meet you on the other side.