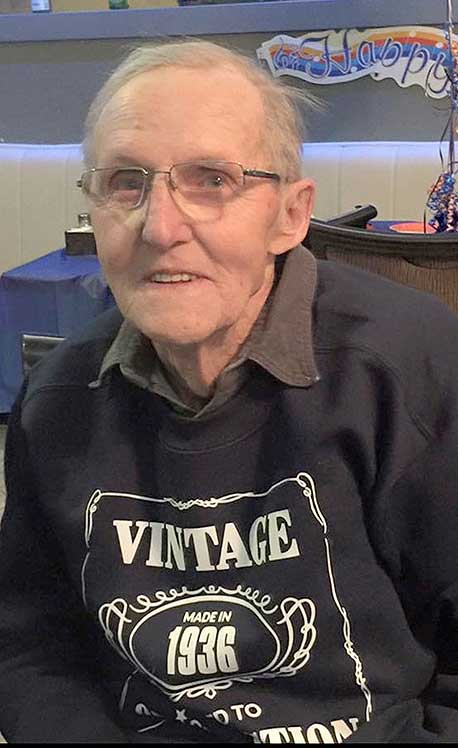 February 21, 1936 – May 1, 2023
Our family has lost a pillar, dad passed away peacefully at Meadow Lake Hospital on May 1, 2023, shortly after a visit with family.
Dad was born in Saskatoon on February 21, 1936, and resided in Beauval until the age of 6 when he was sent to live in Meadow Lake to attend school. That is where he resided for the rest of his life.
Allan married Mary Annette Wood and raised their family in Meadow Lake and the Meadow River district.
Dad excelled at many things. His career included operating Erickson's Box Factory, being a Superintendent for Public Works Canada building schools and arenas, managing at the Meadow Lake Sawmill, and finally working as a Millwright at Cluff Lake. He even spent time teaching trades at Meadow Lake College. As Dad said, he was a Jack of All Trades, master of none, but he was a master and it showed in his achievements throughout his career.
While he worked tirelessly to provide for the family, he still found time to work on the farm. He loved the farm and working on equipment and even restored antique tractors and a caterpillar dozer. When not working or farming Dad enjoyed fishing, camping, and playing cards with family and friends. Not well travelled, but Dad and Mom enjoyed RV vacations and bus tours to the east coast, Alaska and Nashville. The highlight of his vacations was his trip to Iceland (his country of origin that he was very proud of).
A man of few words dad lead by example and treated people with honesty and respect. The traits he instilled on his children.
Dad is predeceased by his parents: Erick & Alla; and sister: Doreen.
He is survived by his wife of 61 years: Mary Annette; son: Erick (Carol) Erickson; daughter: Allison Roschker (Dale Lauinger); son: Mark (Laura) Murray; grandchildren: Riley Carr, Kayla Holfeld (Derek), Erick Joel Erickson, Katelynn Roschker (Chris Freake), Braden Roschker, Dylan Murray; great granddaughter: Sophie Holfeld. As well as Dale's children Chad (Dana) Lauinger and Shelly (Michael) Lantz and their children Cole, Ryan and Drew Lauinger and Laken, Presley and Henley Lantz.
The family extends sincere appreciation to friends who have comforted dad and assisted mom during dad's brief illness. Special thanks to the Doctors and nurses at Meadow Lake Hospital who provided care to keep dad comfortable in his last days.
The family will have a private memorial of life to honour a life well lived.
The Viking Prayer
Lo, there do I see my father.
Lo, there do I see my mother,
and my sisters, and my brothers.
Lo, there do I see the line of my people,
Back to the beginning!
Lo, they do call to me.
They bid me take my place among them,
In the halls of Valhalla!
Where the brave may live forever!
~ Michael Alexander, Risen from Ashes