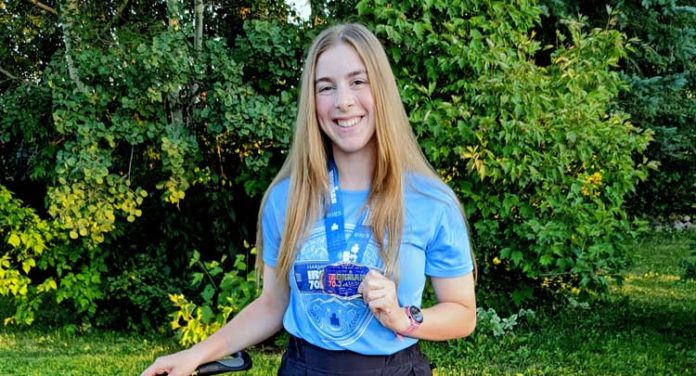 If you have a goal in life, don't let anything stand in your way.

These are words of advice Goodsoil's Kassandre Himmelsbach proved hold true when she recently completed Ironman 70.3, a half-triathlon held July 28 in Harmony, AB northwest of Calgary.

"It's a triathlon through the Ironman organization – I decided I really wanted to do something like this, and I wanted to jump in headfirst and really give myself a challenge," Himmelsbach, 23, told Northern Pride. "I was originally planning on doing a full Ironman, which is the one in B.C., but with my schooling and whatnot, I didn't have as much time as I would have liked to train. I also tore my thigh muscle back in December, and thought perhaps a full triathlon wasn't a good idea."

The Ironman 70.3 Himmelsbach competed in featured close to 800 participants and included a two-kilometre swim, a 90-kilometre bike ride and a 21-kilometre run.

"I finished 541st overall and did it in seven hours a 50 minutes, and I was ninth overall in my age division," Himmelsbach noted. "I was very happy with the result because I had never done a triathlon before. My goal was to just finish and to, hopefully, do it in seven hours. But, it was about 30C during the run. I didn't think it would be a good idea to push myself in such heat. I ran with a lot of ice cubes in my pants and bra… I tried to keep cool as much as humanly possible."

A graduate of Goodsoil Central School, Himmelsbach recently earned an honours degree in physiology from the University of Alberta. Growing up she said she was always athletically inclined.

"I've always loved being active, and staying active is a really big thing for me when it comes to staying healthy mind, body and soul," she said. "I like to give myself challenges because I am quite an anxious person. I figure the best way for me to get over that is to just do things that scare me. Growing up, I was a competitive dancer and I've taught dance as well. I also competed in school sports such as volleyball and track and field."

Himmelsbach began actively running while in university but said she hadn't ridden a bike or swam since she was about 12 years old.
"That was an adjustment when it came to preparing for Ironman 70.3, but I really enjoyed it," she said. "I liked the idea of having something to work toward and to focus on aside from school."

Going forward, Himmelsbach has been accepted to the University of Alberta for nursing. Beyond that, she said she may pursue yet another degree.

"I'm not exactly sure yet, but I am planning to join the university's triathlon club – it is a really awesome community to be a part of," she stated. "At the triathlon, everyone was so supportive. I would like to continue on with that and perhaps become a little more competitive. I'm also part of a dance company and plan to continue doing that as well."

What Himmelsbach enjoys the most, however, is knowing she serves as an inspiration to other young people not only from her community but from other parts of rural Saskatchewan.

"That's a really big reason why I want to continue doing these things," Himmelsbach said. "A lot of people who come from small communities often tend to have this impostor syndrome, but we are capable of doing all the things people in big cities can do. It can be daunting to jump into things with little to no experience, but it goes to show if you put your mind to something and find the support system you need, you can do it. Being from a small community gives you the advantage of everything you've done you've had to work very hard for."
by Phil Ambroziak