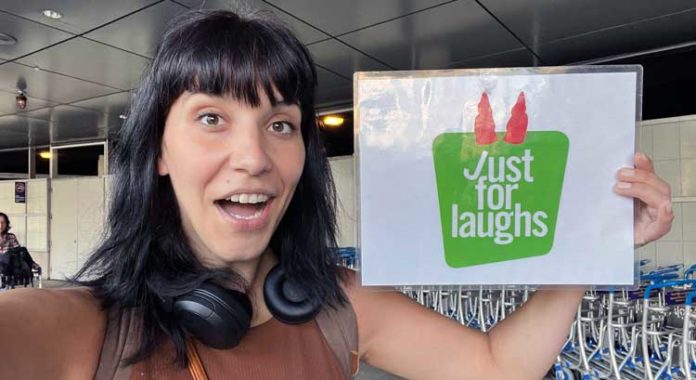 Dakota Ray Hebert has checked another item off the bucket list as far as her career in stand-up comedy is concerned.

The former Meadow Lake resident who now resides in Saskatoon recently performed at Just For Laughs Montréal, something she said is the dream of every up-and-coming comedian.

"Just For Laughs Montréal is the big show, the big league when it comes to stand-up comedy," Hebert told Northern Pride. "That's what a lot of comics have their sights set on, and I got the call to be a part of Just For Laughs New Faces of Comedy: Canada. It was a huge opportunity because there were a lot of scouts in the crowd, producers, people looking for new comedic talent. It was really exciting."

Hebert received the call confirming her involvement in Just For Laughs in early July and she performed July 28.

"It was an 804-seat theatre and it was pretty near sold out," she said. "I received a standing ovation at the end, and had so many applause and laugh breaks I couldn't even get to the end of my set in the time allotted. I just took it all in before giving my farewell… You only had six minutes on stage, so it was difficult only because I've developed whole sets around certain topics. It was tricky to whittle it down to a six-minute set, but I was able to overcome the challenge."

Hebert also took part in an encore performance in a smaller venue, and she was the only comedian from Saskatchewan invited to perform at Just For Laughs New Faces of Comedy: Canada.

"Only 10 comics were picked to take part," she said.

She went on to say, the main show in Montréal was the biggest audience she has performed in front of to date.

"This summer has definitely been a summer for performing for large audiences," she said. "On July 8, I performed in front of 500 people in San Francisco and that was the largest audience I've performed for until Montréal. I was almost happy I couldn't see all the people from the stage because it was very frightening. While getting ready earlier that day, I did my best not to have a meltdown. I tried not to fret too much and kept having to remind myself it was just another show. I didn't want to get into my head all the possibilities that could stem from it."

Looking ahead, Hebert will appear at the Just For Laughs Toronto Comedy Festival in late September and she has already filmed two episodes of CTV's Roast Battle Canada. She will also appear on an episode of CBC's The Debaters Sept. 19.

And, although she's performed across Canada and has even appeared on television, Hebert said her time in Montréal still feels surreal.

"It's the OG, the original Just For Laughs Festival – it was so exciting, and it allowed me to complete the Just For Laughs hat trick across Canada because I've performed at Just For Laughs Vancouver, Toronto and now Montréal. I would like to perform (at Just For Laughs) more regularly and maybe even get some Just For Laughs gigs internationally, but, for now, it just feels great to be welcomed to the world of Canadian comedy."
by Phil Ambroziak