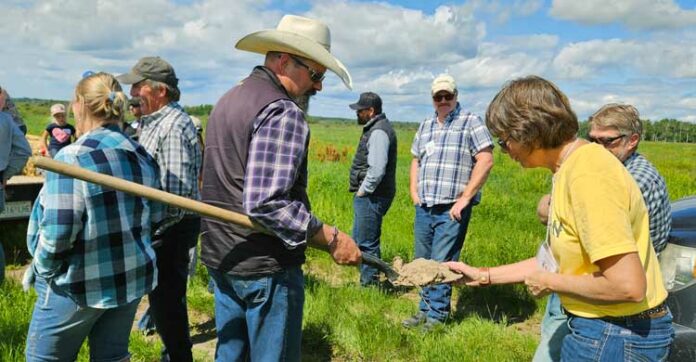 When it comes to success on the ranch, it can be very beneficial to take a holistic approach.

This was the message shared with the more than 60 people who took part in a two-day field day event at three properties in the northwest last Tuesday and Wednesday (Aug. 8 and 9).

"The event was hosted by what's called a plan management club consisting of a group of ranchers with this particular club being founded in 2012," explained Bluesette Campbell of B-C ranch near Dorintosh. "We all took a regenerative agricultural course together called a holistic management course. We learned over six days together and then we formed a club of like-minded people to help support us in sustainable agriculture. Every once in a while we'll host an event or bring in a guest speaker."

B-C Ranch, which was the first stop on the tour, often holds grass tours or field days focusing on sustainable agriculture practices.

"We were one of three ranches to feature stops on the tour," Campbell said. "Other stops included the Adamson family's Diamond J Cattle Company near Makwa and the Chuiko family's operation, or CJ Ranching, located between Loon Lake and St. Walburg. The tour was about showing the various sustainable agriculture practices we utilize with everyone heading out to the field to talk about soil health, adaptive grazing practices and more."

Of the 66 participants on hand, Campbell said 16 were children and youth.

"This was excellent because we always try to promote these tours as family events," she added. "People came from all over Saskatchewan, as well as some from Alberta and there were a couple from New Zealand and Ireland. They didn't fly here specifically for the field day, but they were here and it was great to hear different international practices and some of the things going on in other countries. It was a learning event and we really wanted to promote how, in extreme weather patterns such as really dry springs or erratic rainfall and whatnot, management practices may need to change."

At B-C ranch, Campbell continued, particular focus was placed on how many animals an operation should run without depleting the land, while Wednesday morning's session at Diamond J focused on water development and succession planning (how to transition an operation from one generation to the next). The final topic touched on feed security.

"These adaptive practices have been in the Campbell family for 35-plus years and we like to share that with the community – not because we think what we're doing is right for everyone, but because we've experienced a tremendous amount of success in agriculture by following these principles," Campbell said. "We want other people to also be successful in what they're doing."

Campbell went on to say much of what happens at B-C Ranch is based on a goal the family has written, and which guides them – to leave the land better than how they found it.

"It takes us closer to our goal by sharing our experiences with others," she said. "We try to make decisions on our ranch that take us closer to this goal, and this one clearly hits the mark because we had an amazing response. Sometimes people don't really know what to expect unless they've been to one of our grass tours before. A generic field day consists of going out on the land and seeing what other people do, but we designed this tour to not be just about the grass… We talk about the importance of goal setting and how that influences the decisions you make in your operation. We also talk about having an effective financial plan because you need to be able to cash-flow any changes you might make. I don't think people realize that's what we're going to talk about, but the feedback we get from the event is it's all one big picture, and that's what holistic management is all about. Everything plays an integral part in having a successful operation. That makes a lot of sense to people."
by Phil Ambroziak