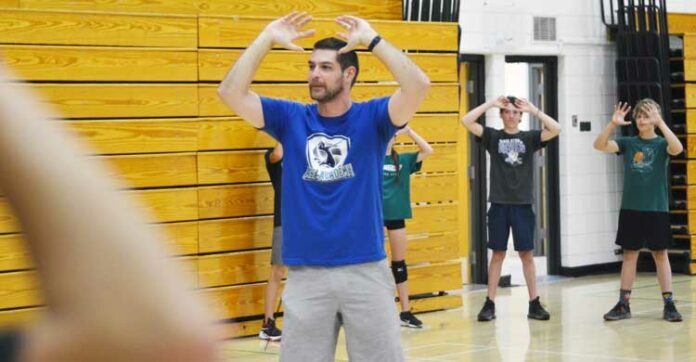 When volleyball season begins at the local middle schools and at Carpenter High in the coming weeks, local student athletes will be ready to make an impact on the court.

That's because a record number of participants took part in the three-day Meadow Lake Volleyball Camp this week, packing the gymnasiums at CHS as well as at Jonas Samson and Gateway Middle Schools Monday through Wednesday (Aug. 14-16).

"We hold this camp every year – this is our biggest year as far as athletes go," explained camp organizer and CHS volleyball coach Cheyne Dallyn. "We have close to 135 athletes this year between Grades 4 and 12. We have a really big Grades 4-6 group – that's where we saw this huge jump in numbers – while the Grades 7-9 group is at 65 and the seniors are another 35-40 kids."

Dallyn said the volleyball camp is important because it allows the younger athletes an opportunity to learn the sport and to begin developing the fundamental skills they need to start playing volleyball.

"For the Grades 7-9 kids, it's about skill development because they're trying to make their respective middle school teams, while the older kids are preparing for the high school volleyball season which begins in about two weeks, as soon as the school year starts. This camp gives them a chance to get back in the gym and to learn a few new things, and also to shake off some of that rust that's built up over the summer. For the Grade 12s, it's also about honing the skills they've developed and taking them to the next level."

Dallyn also played high school volleyball when he was a student at CHS. He said it's wonderful to see such a strong interest in the sport continue year after year.

"The community of Meadow Lake and the surrounding area has always had such great support for the game of volleyball, and, with all the coaches and teachers of the game we have in the community, it's helped to develop a passion for the game in younger people," he noted. "Our area has always had it, and it's continuing to grow. With the splitting of the schools, we're seeing more young people playing volleyball, which is so exciting. It's great to see these kids have the opportunity to play."

In addition to Dallyn as well as fellow coaches Trent Marsh and Leighton Chiverton, assisting with the camp this year were former CHS athletes Brennan Kuffert and Mason Gorski, as well as Jordan Nowakowski who was brought in from Saskatoon.

"He's played at the U of S and is now coaching with the Huskies," Dallyn said. "He's played some pro ball as well."

Dallyn concluded by stating he was very impressed with what the student athletes were able to show in terms of skill level during the camp.

"This group has the fundamental skills – you can tell people have been playing some club volleyball and getting some touches in," he said. "That has helped to improve their skills, so now it's about taking those skills and fine tuning them a little bit more so they're ready to play middle school and high school volleyball, and be competitive no matter where they are."
by Phil Ambroziak