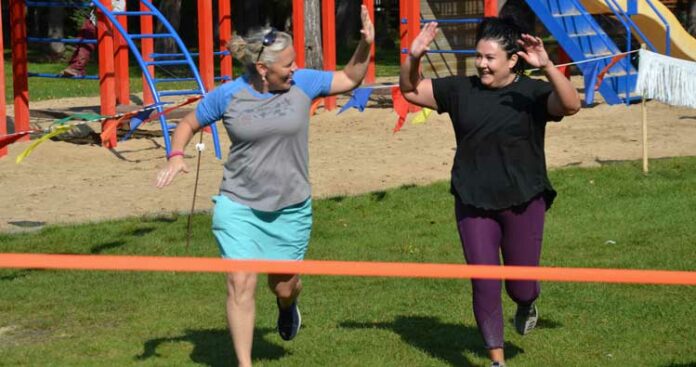 On your mark, get set, go!

Close to 100 participants will converge at Greig Lake in the Meadow Lake Provincial Park Saturday, Sept. 9 for the 15th annual Setting the PACE Race, an event that serves as a major fundraiser for People Advocating for Children with Exceptionalities (PACE).

"Things get underway around 8 a.m., depending how far you run," explained PACE spokesperson Bluesette Campbell. "Depending how long your race is, the earlier you will have to start. The events will take place between 8 a.m. and 12 noon and will include a three-kilometre, five-kilometre, 10-kilometre and 21-kilometre run. We also make accommodations for anyone who wants to run a full, 42-kilometre marathon."

Participants are also welcome to walk or bike the various routes.

"In addition to the race itself, there will be live music, free mini-golf at Dutch Treat and free ice cream," Campbell said. "There will also be a lemonade stand, while this year's sponsors include Meadow Lake Home Hardware, Pevach Corp., Lake Time Rentals and North West College. Sponsorship is crucial for a number of reasons. It allows us to provide commemorative race shirts to all participants and more."

As noted, close to 100 people are expected to take part.

"We've had anywhere from 75 some years to 150, but the average is 100 participants," Campbell continued. "We average between $10,000 and $12,000 each year. If you do the quick math on that, this event has brought in more than $150,000 to our community. Those dollars go toward events and activities PACE runs – inclusive activities that promote strong families and an inclusive community."

Participants, meanwhile, include a number of local residents, as well as people who travel from afar to be part of the experience.

"This year we have a former Meadow Lake resident, Norm Deutscher, coming," Campbell said. "He now resides in Saskatoon, so it will nice to see him back. That day, we will be in competition with the Queen City Marathon in Regina, so a lot of people who run will either go south or they will go north. Our event is different, though, because anyone who knows a person with a disability, this particular fun run means so much more. It's a very inclusive event and allows you to be part of a very special day where you see inclusion in action… There is a tremendous amount of community support in helping people achieve what they set out to do. That's an incredible experience and why I believe we get so many people coming back year after year."

Campbell went on to say what makes the Setting the PACE Race so much fun is the smiles on people's faces when they accomplish their goal.

"That's what we need to see more of in this world – a reason for celebration," she said.
Anyone who is interested in participating in the upcoming race can email admin@paceinc.ca to receive a race package. Registrations will also be accepted on race day itself.

"People can register online or make a donation," Campbell concluded.
by Phil Ambroziak