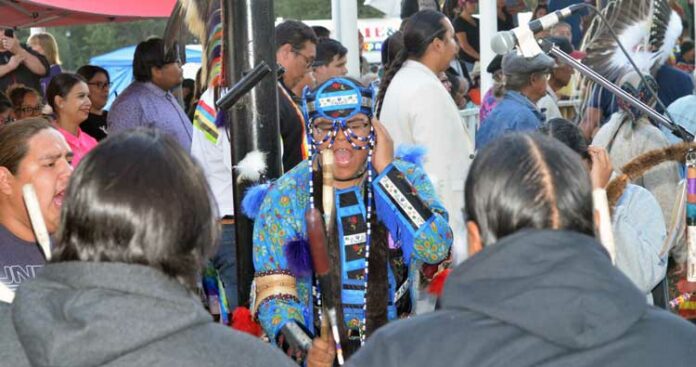 The powwow trail once again leads to Flying Dust First Nation this Labour Day weekend.

The annual FDFN Powwow takes place Sept. 1-3 and once again promises to bring much in the way of both entertainment and tradition.

"The powwow starts Friday, Sept. 1 and runs through Sunday, Sept. 3," reiterated FDFN Powwow committee chair Cheryl Bear. "Actually, things get started a day earlier with a community feast Thursday (Aug. 31). Anyone who is already camping at the powwow grounds can come and eat with us. The feast is expected to get underway around 5 p.m. and anyone and everyone is encouraged to come to that."
The powwow itself kicks off Friday with a grand entry at 7 p.m.

"From there, we will have various contests and whatnot, and there will be some different specials that evening as well," Bear said. "There will be a red dress special honouring murdered and missing Indigenous women, a yellow dress special regarding suicide prevention, a men's traditional special, a men's chicken dance special and a grass dance special."

There will also be two initiation specials, which will see various individuals welcomed into the powwow dancing circle.

"On Saturday, the first grand entry will take place at 1 p.m. while a second grand entry will happen that evening at 7 p.m.," Bear continued. "Sunday, we'll start at 1 p.m. with a grand entry. There will, however, be what we're calling an Indian auction starting at 10 a.m. that morning. People can bring anything they'd like to auction off to help offset the cost of the powwow, to help with gas funds or anything like that. Usually people will bring things that can contribute to a powwow outfit or things they've made such as beaded jewelry, ribbon skirts and more. It's a really good time to gather, to visit and to share in each other's gifts."

Sunday evening, meanwhile, will feature the annual powwow pageant.

"That's where we crown our new powwow royalty. We'll have a new little warrior, as well as a tiny tots princess, a junior princess and senior princess."

Sunday evening's grand entry will also feature the new powwow royalty who will be introduced to the crowd on hand.
As far as dancers and spectators alike, Bear said they will include not only people from the Flying Dust and Meadow Lake area, but also folks from all parts of the province and beyond.

"There's actually one lady who comes every year who, I believe, travels the furthest," Bear said. "She comes from northern British Columbia. She came last year and, normally, the weather is sort of chilly during our powwow because it's the last powwow of the season. Last year, though, she came to see us at the registration booth and said it was the one time she booked a hotel room, but it was really hot outside. It was funny. But, yes, people come from all over the place. It's a good weekend to visit and to see people you don't normally see for the entire year."

Bear also said the FDFN powwow – which is now in its 17th year – is more laid back considering it is a traditional powwow rather than a competitive one.

"I find traditional powwows to be more easy going and a good time to reflect on why we do these types of dances, why we sing these certain songs and so on," she said.

Bear is also optimistic the weather will cooperate throughout the weekend.

"It's going to be amazing – there's not going to be any rain," she said. "We will have good powwow weather the entire weekend. I'm looking forward to it. The powwow is open to everyone. Anyone can come and enjoy themselves. Its going to be a good time."
by Phil Ambroziak