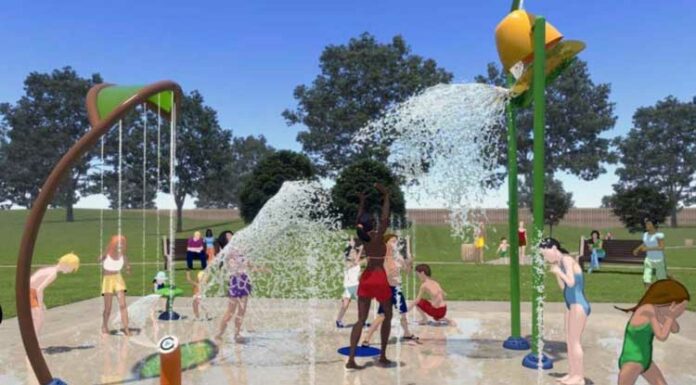 The Northern Village of Ile-a-la Crosse is ready to make a splash – a splash park that is.

Recently, Innovation Federal Credit Union presented $20,000 to the northern village to help fund a community splash park. This was the latest in a series of donations and fundraising efforts to ensure the project is completed by next summer.

"We would like to promote healthy lifestyle changes and this splash park will be another tool we can use to keep our children and youth safe," remarked Donny Favel, Ile-a-la Crosse chief administrative officer. "Like most communities, Ile-a-la Crosse wants a community of happy and healthy children, people with high self-esteem, people who take pride in their heritage, their homes, and community. We want our people to be proud of who they are and where they come from."

The park, which Favel said will be a safe water play area equipped with water jets, sprays, and tipping buckets designed for family fun, has been a long time in coming.

"We had an RCMP member stationed here who actually just finished up his two-year term," Favel told Northern Pride. "He has this company called PlayQuest as a side gig, and he gave us a presentation about a possible spray park for our community during one of our council meetings. He has a consulting group that works with him to help northern, remote, aboriginal communities find the necessary funding for such projects. Council felt it was a no-brainer."

Although the overall process moved slower than the village hoped, Favel went on to say the aforementioned consulting company was able to secure $100,000 for the project from the Government of Canada.

"That covered about 50 per cent of the project cost," Favel noted. "Back in June, I told the consultants I would begin looking locally and regionally for other funding supports. Through the contacts I have and other organizations I deal with, I was able to bring in the remaining funds required."

The $20,000 from Innovation was presented in late August, while the Primrose Lake Economic Development Corporation (PLEDCO) matched the $25,000 from the community's municipal infrastructure fund, while the remaining funds were raised through the village.

"The equipment has been ordered and should arrive this week," Favel said. "They're hoping to start the work in late September or early October. Ground work will be required and I believe some concrete work, and we're planning to host a grand opening in 2024."

This will be the first spray park for Ile-a-la Crosse. It will be located near an existing playground on the village's north side.

"We have a beach on the south side we've been upgrading the last several years, but the majority of kids and families live on the north end," Favel said. "We took down an old outdoor rink – that's where we'll be putting the splash park. We want to make it a real family gathering area. There's a lot of excitement, people can't wait and we've been receiving a lot of great compliments."

Favel also said the new splash park will be a great place for local school children and their teachers to attend for year-end school outings.

"This year, some of our elementary school students went to Meadow Lake to visit the pool and splash park there," he said. "A lot of people asked why Ile-a-la Crosse didn't have anything like that, but our applications were already in. The wheels were in motion."
by Phil Ambroziak