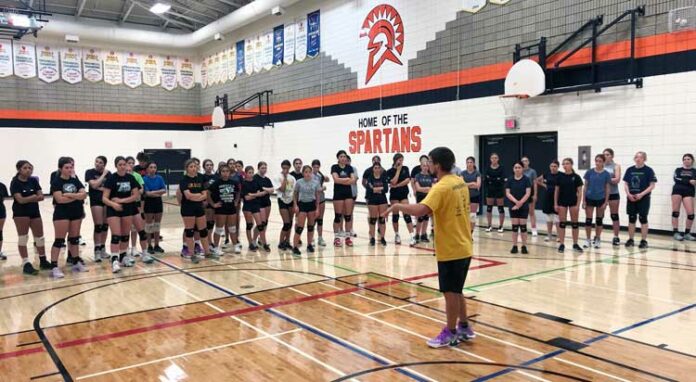 The volleyball court at Carpenter High School in Meadow Lake is once again heating up.

The 2023 CHS volleyball season got underway with the first day of school Tuesday (Sept. 5) when tryouts were held for two CHS boys volleyball teams, as well as the CHS girls Senior 'A' and 'B' teams, and a girls Grade 9 team. Tryouts continued Wednesday (Sept. 6) with final teams expected to be picked by today (Sept. 7).

"We have more than 50 kids out here today, which is a great turnout," remarked Cheyne Dallyn who, this year, will be coaching girls volleyball. "The girls always have a strong showing in Meadow Lake. We always have a ton of volleyball players here, but we need to cut down to between 30 and 36 kids – 10-12 players per team. Having to do that is always very tough because you have to take a quick glimpse at what those players have to offer and see who is going to provide what you need on each team. There's always so much talent in the community of Meadow Lake and the surrounding area, so it's tough to narrow things down. We have a lot of great players who won't make the teams simply because of numbers."

This was echoed by CHS boys volleyball coach Trent Marsh who – when contacted last week – said more than 40 athletes were expected to try out for his team.

"This year we will have a good core of boys who were on the team last year, and we will be looking to add some players who will be there for us in the future," Marsh noted. "It will be really exciting. I am looking forward to working with the athletes."

Dallyn, meanwhile, said he is pleased with the level of talent he's seen so far this season.
"A lot of these girls you can tell have had some touches in and are easily shaking off any rust," he said. "That's from attending different camps and such, and a lot of these athletes look as though they're ready to start the season right now. We have a lot of talent."

This weekend (Sept. 8 and 9), the Senior 'A' girls will compete in a tournament at the U of S in Saskatoon while the Senior 'B' team will compete in Wilkie. On the boys' side, the Senior 'A' squad will be in Prince Albert this weekend.

As for home tournaments, the CHS boys will be in action in Meadow Lake Sept. 22 and 23 while the CHS girls will be at home Oct. 20 and 21.

As for his first time coaching a girls volleyball team Dallyn said the approach is very similar to the one he's taken with the boys over the years.

"The Senior 'A' girls coach we lost from last year," he said. "She was doing a great job in the community and a great job with the girls. There were no coaches available on the girls side and, considering Trent and I have both coached the boys together for some time, it was a matter of me trying something new. I knew it was a great bunch of kids, so that makes it even easier to come over and do something with this group as well. Right now we're trying to grow, but it's always a very competitive league."
by Phil Ambroziak