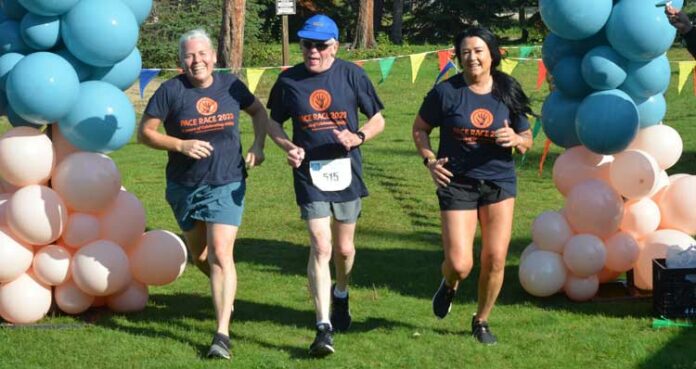 The support continually shown for the annual Setting the PACE Race continues to leave any and all competition in the dust.

"It was really great – I've received a lot of feedback on how it was such a fantastic day," remarked Bluesette Campbell, who helped organize the race held Saturday (Sept. 9) at Greig Lake in the Meadow Lake Provincial Park. "Part of that, of course, has to do with the weather. I can't take credit for that one, but it was beautiful out and people really enjoyed themselves."

Now in its 15th year, the race serves as a major fundraiser for the People Advocating for Children with Exceptionalities (PACE) organization, and, as of press time, this year's instalment brought in $13,011.

"That's just so far," Campbell said. "After the fact, more donations always come in so I imagine that number will grow. Still, that's the average we raise each year and we're very happy with it. The funding will go toward the various events and activities we budget for throughout the year. This will help us manage things for the entire year."

In total, 86 participants registered for the race.

"That is a little lower than usual – we usually average around 100," Campbell said. "It was fewer people, but more money was raised, so we can't complain."

Campbell also noted how important it was to celebrate 15 years of the PACE Race.

"That was a big one," she said. "The amount of community support was incredible. Every year we think about how hard we have to work in order to remain active in the community so people don't forget about us, and every year we're blown away by the amount of community support we have. The remarkable thing about the day is it is designed to increase awareness around the issues of disability, yet it is the most inclusive day ever. It's sort of an oxymoron because it's a day designated for disabilities, yet it's the most inclusive day – it's really hard to capture with words and that's the beauty of true inclusion We're not there to point out our differences, we're all there for one main reason."

Campbell also said she's already looking forward to next year's race.

"It's a big enough event you start planning four or five months in advance," she said. "The exciting part now is to go back to our budget and ensure we can allocate the funds we've raised to what we have planned for the year. Two specific projects near and dear to our hearts include the occupational therapy gap we have in our community, and the communications support associate in partnership with the Northwest School Division."
by Phil Ambroziak