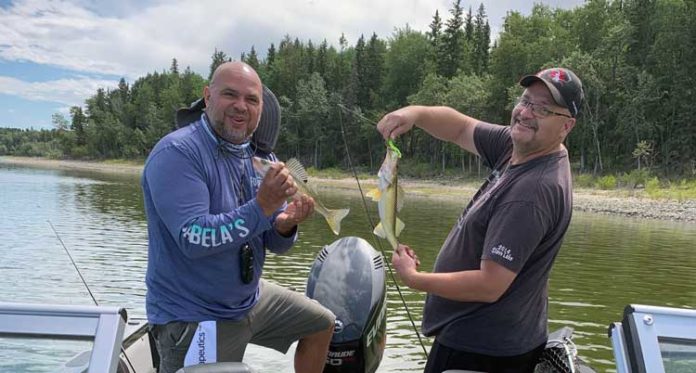 The journey to wellness continued last week for several couples from across Saskatchewan.

July 23-28 were the dates for the Wounded Warriors Weekend Camp Independence II, an event held at Safari River Outfitters Lodge in Green Lake and organized by Meadow Lake's Rick Burnett.

"We had nine couples take part, four of which were attending the camp for the very first time," Burnett explained. "They were totally amazed by what was involved and what it means for these guys."

The camp provides an outing for veterans and first responders who struggle with post-traumatic stress disorder.

"It's designed to give them a helping hand up," Burnett said. "We take part in a number of activities such as fishing, golfing and horse equine therapy (held at Juanita Prosser's property just west of Makwa). We treat the participants with respect and do what we can to ensure they're enjoying their time. The attendees are able to talk with one another and share their stories about their struggles."

This year's attendees came from as far away as Regina, North Battleford and Turtleford, and as close to home as Meadow Lake. Burnett organized the first local Wounded Warriors camp last summer, but has also participated in similar events at other locations for many years.

"This year was probably one of the most inspirational ones I've seen," he said. "For one of the attendees, this was his first outing in seven years and the horse equine therapy, the relaxation of the camp and being able to talk with others truly helped him. His wife thanked me so much, telling this is the first time he was able to joke and laugh in years. He also sent me a text this morning, thanking me and to tell me his doctor has seen some huge improvements… We also had an EMT take part who was in a dark place just three short weeks ago. We were able to bring him up both with the horse equine therapy and the fishing."

Burnett also said this year's camp was extra special because it was open to couples.

"It made it really special to have the wives there because they struggle too," he noted. "They have to put up with the nightmares, the anger, the hollering from the people who have PTSD. If it wasn't for them giving 100 per cent of their love to keep their partners focused on getting better, they wouldn't be together anymore. Their love and strength has put them together and kept them on this journey to wellness."

Among those to take part in this year's camp was Steve Gloade, a retired RCMP member from Regina.

"I take my hat off to Rick and to his team that helped him put this together," Gloade said. "Also, a huge thank you goes out to the people of Meadow Lake and the surrounding area. I know a lot of fundraising dollars come from that neck of the woods and we appreciate what the people of Meadow Lake and area have done and continue to do through their fundraising efforts. Without any of that, none of this would happen."

Gloade went on to describe the camp itself as magical, adding it truly does mean a lot to those who take part.
"You really can't describe it in words," he said. "It's the typical scenario where you bring all these people together who really don't know each other, put them under one roof and watch the dynamics over the next several days. Each day, people start bonding and becoming closer and closer."

He also described the experience as very calm and relaxing.

"To be in such a beautiful part of our province and to be with others and have a chance to sit back and relax, it was beautiful," Gloade said. "To me it boils down to outdoor medicine at its finest – the best prescription a doctor could write. It's not going to be the be-all, end-all for everything, but it certainly gets people in a very good place and lets you see, even though there are bad days, there are also good days."

As for why Burnett continues to support veterans and first responders through the Wounded Warriors initiative, he said it mostly has to do with growing up watching his father struggle with PTSD.

"All they used to want to do is push pills on people, but this helps people on a journey to wellness where they can perhaps lower their pill intake, get out and see the positives in the world," Burnett said. "It also shows them they're not alone."

Burnett also plans to hold a camp next summer, adding a major fundraiser will be held later this year or early next in preparation for that event.
by Phil Ambroziak