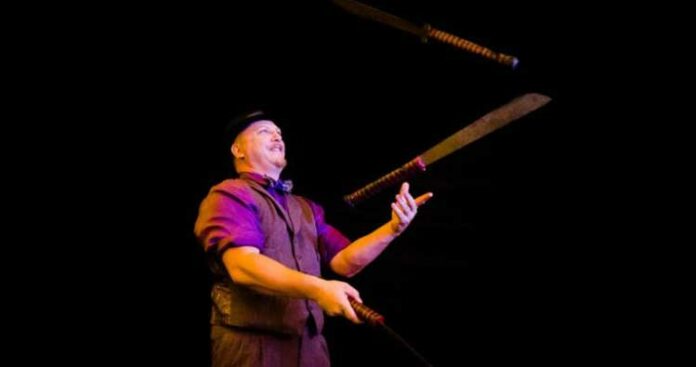 Move over Harry Houdini and take a walk David Copperfield because – when it comes to magic, escapes and all around entertainment – two upcoming shows in Meadow Lake could prove to be just what the doctor ordered.

At least that's what Amber Ambroziak – owner of Crazy to the Core Candy and More – is hoping for when her business brings to town Dr. Von Houligan's Family Extravaganza for one night only, Wednesday, Oct. 25.

"It's going to be an exciting evening," Ambroziak said. "Dr. Von Houligan's Family Extravaganza is a one-man show with strong ties to traditional circus entertainment. There will be something for everyone including magic, juggling, escapology and more."

According to a description provided via Dr. Von Houligan's official website, he has a unique style that hails from the 1920s, with a dash of flamboyancy.

"He balances all manor of object," the website reads. "He escapes from all styles of restraints, and juggles paraphernalia in the strangest of ways. He whips the crowd into an excited frenzy while dazzling them with magical feats. He smells like cotton candy and can live for weeks off of popcorn. He is, the most interesting circus performer. He is, Dr. Von Houligan."

Ambroziak, meanwhile, said she chose to invite Dr. Von Houligan to Meadow Lake because she enjoys giving back to the community, adding the whacky nature of what will be performed that evening goes hand-in-hand with her outgoing personality and the fun environment she promotes at her candy store located at 309 Centre St.

"It's exciting to provide people and families in Meadow Lake and area with something new, something different," she said. "People often say 'there's nothing to do in Meadow Lake', so why not give them something they can do and something that will create positive, lasting memories they will be talking about for a long time? I can't wait."

Although the upcoming Dr. Von Houligan shows are being hosted by Crazy to the Core, they will be staged at Aurora Cinemas located at 110 1st. St. East. Ambroziak also serves as manager of the local movie theatre and, when looking for a venue to host Dr. Von Houligan, the cinema immediately came to mind.

"In addition to our regularly scheduled movies, we also rent the theatre out for private movie screenings, birthday parties and more," Ambroziak noted. "This will also be a great opportunity to show people how our space can be utilized for much more than just movies."

Dr. Von Houligan's Family Extravaganza will feature two shows in Meadow Lake Oct. 25. The first gets underway at 6 p.m. and is open to all ages. Tickets are $8 per child and $12 for anyone 14 years and older. Meanwhile, a second show – slightly more mature in nature and open to audience members 14 years-plus – will begin at 8 p.m. Tickets for the later show are $15 each.

Advance tickets can be purchased at Crazy to the Core Candy and More (309 Centre St.) Mondays through Saturdays from 12 noon to 6 p.m.

"Dr. Von Houligan began his journey as a confused youth, when he was taught a magic trick at the tender age of seven," Dr. Von Houligan's website continues. "It was amazing yet odd all at the same time. The magic was now different for him and it would take many years for him to understand why. After a journey that took him to the far reaches of the world, he finally understood how the magic really worked. Since then, Dr. Von Houligan has been bringing this knowledge to his show and has been entertaining folks all over the world. From Paris to Las Vegas to New Zealand, Dr. Von Houligan has been bringing joy and amazement to the world."
by Phil Ambroziak