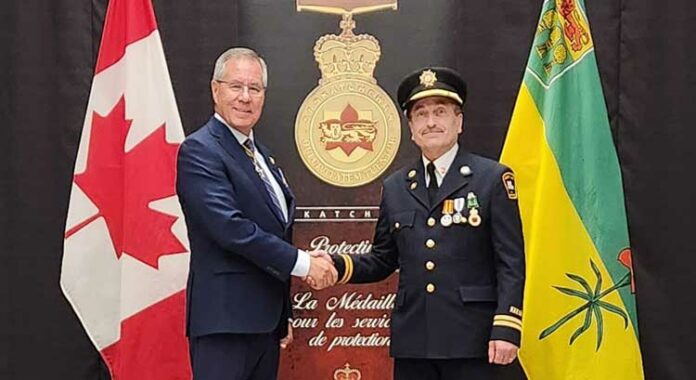 With a career spanning more than a quarter-century, Meadow Lake's Neil Marsh was recently recognized at the provincial level for his dedication to the firefighting industry.

Marsh, who remains an active member of Meadow Lake Fire and Rescue after stepping down as chief at the start of this year, was among the numerous individuals from across the province presented with the Saskatchewan Protective Services Medal during a ceremony held last Thursday (Sept. 28) in Saskatoon. The medals were presented by Lt.-Gov. Russ Mirasty.

"I am very pleased and honoured to receive this recognition," Marsh said. "I thank the people who made it possible."

The Saskatchewan Protective Services Medal honours personnel with 25 years or more of exemplary service in Saskatchewan in the protective services field. Recipients include police, fire, federal and provincial corrections, border services, the Royal Canadian Mounted Police, the Canadian Armed Forces, as well as mobile crisis and family violence outreach services.  

"Through their tireless efforts, protective services professionals allow us to feel safe in our communities and in our daily lives," noted provincial secretary Don Morgan, who was on hand for last week's ceremony. "Their selfless actions embody the very essence of service and contribute immensely to bettering our province. I am honoured to be able to show thanks to these deserving recipients for their years of dedication and courage."  

This year, the medal will be presented to 178 individuals from rural and urban communities across the province. In addition to the medal ceremony held Thursday, another two medal ceremonies will be held in Regina Oct. 18. Marsh learned he would receive a medal about a month ago upon receiving an invitation from the provincial government's protocol office.

"They informed me of the medal and invited me to be part of the ceremony," Marsh added.

Marsh has been a member of the local fire department since 1997. He took on the role of fire chief in 2011 and stepped down in January of this year. He still retains the rank of captain and continues to be involved in the department.

"I certainly appreciate it (medal), it's very nice to have," Marsh said. "I also want to thank the people who went out of their way to attend the ceremony. It was a nice touch."

Among those pleased to see Marsh recognized with the Saskatchewan Protective Services Medal is current fire chief Joe Grela.

"The Saskatchewan Protective Services Medal is awarded to people who have been involved in emergency services for 25 years or more," Grela said. "Neil has done a lot for the fire department and for the community, so this is a well-deserved honour."

Medal recipients are given a circular medal surmounted by St. Edward's crown and a certificate signed by Mirasty, Premier Scott Moe and Morgan. The medal bears the motto Qui civitatem tuentur (who guard the citizenry).For more information about the Saskatchewan Protective Services Medal, including how to submit a nomination, visit saskatchewan.ca/honoursawards.
by Phil Ambroziak