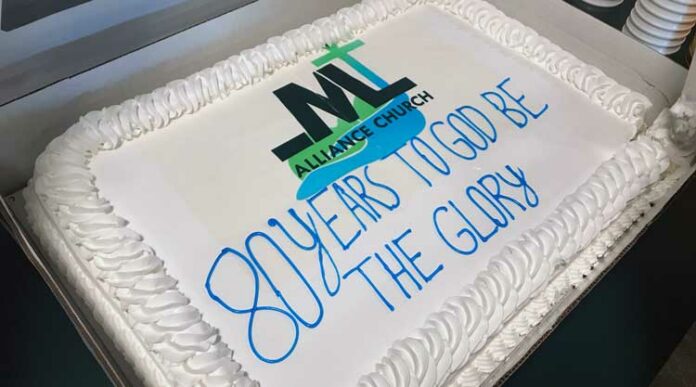 After eight decades, the legacy of the Alliance Church in Meadow Lake endures.

A special service was held at the church this past Sunday (Oct. 15) to celebrate its 80th anniversary, a milestone pastor James Witherow said has been guided by the light of the Lord.

"People started to meet as part of this congregation way back in 1943," Witherow told Northern Pride. "This past weekend, we held a potluck following our Sunday service, a potluck that included cake to celebrate what God has been doing in this community and through people's lives throughout the last 80 years."

Around 1940, property was purchased on 2nd Street East for a building which went by the name of The Gospel Tabernacle. It was built by families from a number of Christian denominations. By 1943, the families who were part of the ministry had joined with the Christian and Missionary Alliance, and thus the ministry centre was renamed The Gospel Tabernacle of the Christian and Missionary Alliance. It kept this name until the early 1980s.

In 1967, the building caught fire, so a new building was established at 1st Street East and 4th Avenue East. The sod turning for the current church building across from Lions Park happened April 30, 1989, and families were able to have their first Meadow Lake Alliance Church service in the gym of the new building Nov. 4, 1990.

"To me, the most important or most special part is this big building that stands here is just a testament to the lives that have been changed," Witherow continued. "A lot of people confuse the idea of the church being the building or the structure, but church is the people. Looking back through records of people who have come through these doors and been a part of this family for so long is quite humbling. There are people connected all throughout Meadow Lake and area, and they've gone out to other places in the world but all had their beginnings here in small town Meadow Lake."

Witherow went on to say the Alliance Church began as a specific idea of ministering in an area where there wasn't a whole lot of other Christian events happening.

"And, certainly none associated with the Alliance denomination out of New York," he added. "The guy who first came up here – he came up on horseback, actually – his name was Fred Smith, and he and his wife, Della, started doing weekly meetings and they helped out with camps in the area… It wasn't soon after things started to take root. All of this happened because of people who responded in obedience to whatever God's call was and they went out, loved people, shared the gospel with them, and lives were changed."

In spite of the Alliance Church's recent anniversary, 80 years is not very old in comparison to many other churches across the world.

"The most important thing to recognize – whether a church is more modern or if its had long-standing, historical beginnings – is they all trace their roots back to Jesus Christ who called people to Himself from the beginning," Witherow noted. "Any groups of people who become a part of a church are just becoming part of His family. That connection with other people and growing in a very personal way are what sustain modern churches, as well as the more antiquated churches."

He also described the Alliance Church congregation as a family of broken people who understand the need for finding God's forgiveness.

"And, we find that in Christ," he said. "For people who think you need to be perfect enough or good enough to be part of what God is doing, and to come into some kind of relationship with him, that's not at all what church is about. It's a place for broken people, just like hospitals are places for sick people. We hope, within that gathering, people find purpose and love and hope that will not only impact their lives, but those of their families and the community as a whole."

Witherow has served in his current role at the Meadow Lake Alliance Church for four years. He works alongside pastor Dave Anderson who recently celebrated his 17th anniversary serving at the church. As for this past Sunday's anniversary service, Witherow described it as a time for both new attendees and people who have been in the community a long time to celebrate what God has done, and to look ahead to that continued legacy of Christ changing the world.

"If people are looking for hope and for a family to belong to, they are always welcome to join us," he concluded. "We also look forward to what God continues to do in this community, and we hope we will respond in the same courageous way and with the same obedience the pioneers who began this ministry did."
by Phil Ambroziak