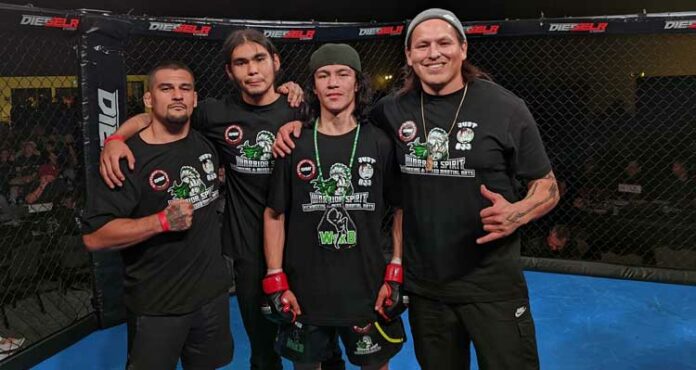 "If he stays consistent and dedicated, he can go anywhere he wants. It's all up to him."

These are the words of Stuart "The Insane" Fontaine of Warrior Spirit Kickboxing and Mixed Martial Arts in the wake of Birch Narrows Dene Narrows member Cory Crowe's first mixed martial arts amateur win during Rumble in the Cage, an event held Saturday (Oct. 14) in Lethbridge, AB.

"Before he went out, I told him to just go out there and enjoy himself," Fontaine told Northern Pride. "Win or lose, I would be proud of him. He put in the time, he put in the hard work and now it was time to go out and have fun."
Crowe, 18, squared off against Max Betournay, a 28-year-old Brazilian jiujitsu blue belt who Fontaine said trains at one of the top gyms in Canada.

"He fought a 28-year-old in his debut fight and he won by unanimous decision," Fontaine said. "It was a one-sided fight. Cory displayed his striking ability, his toughness. I told him to just enjoy himself out there and that's exactly what he did. He's a very humble, quiet kid, but, when the lights and the cameras came on, he changed. Eric (fellow Warrior Spirit student Eric Wilson) told me I created a beast, a real monster."

Crowe has been training at Warrior Spirit Kickboxing and Mixed Martial Arts for a little more than a year.

"Cory came to us a year ago last June," Fontaine recalled. "He contacted me through social media and asked about training. He wanted to start training. He was living in Birch Narrows, and I told him I receive numerous messages from people saying they want to fight and train, but a lot of it is all talk. I told him to just show up. Once he shows up, I said, if he stays consistent and dedicates himself, we'll see where it takes him."

Crowe hitchhiked to Loon Lake and moved in with another Warrior Spirit student, Sean Dumont.

"He was 16 years old, Fontaine said. "But, Cory is different. He has a fighter's heart. I can teach all the technique in the world, but I can't teach heart. Cory has a mixture of both. After this past weekend's event, everyone was comparing him to me, saying he looked like a young 'Insane' Fontaine. He's won grappling tournaments and amateur boxing matches, kickboxing, and now he's made his mixed martial arts debut."

Going forward, Fontaine said he foresees Crowe winning a few more amateur fights and eventually going for an amateur title.

"Once he wins an amateur title, I'll have him make his pro debut," he added. "I don't want to keep him as an amateur too long. I want him to get a minimum of six fights and then go pro. I've seen a lot of guys stick around the amateur ranks too long and, by the time they go pro, they're already banged up and beat up. I don't want that for Cory. He did an amazing job, he had the fight of the night."

Warrior Spirit is based in Loon Lake at 214 Main St. Anyone interested in learning more or potentially training is encouraged to contact Fontaine at 306-603-8927 or reach out through the Warrior Spirit Facebook page.

"I'm just so proud of this kid," Fontaine said of Crowe. "He's been through a lot. He lost his dad in January, he's overcome adversity and I hope he continues to stay consistent and we'll see where it takes him. He has a bright future ahead of him."
by Phil Ambroziak