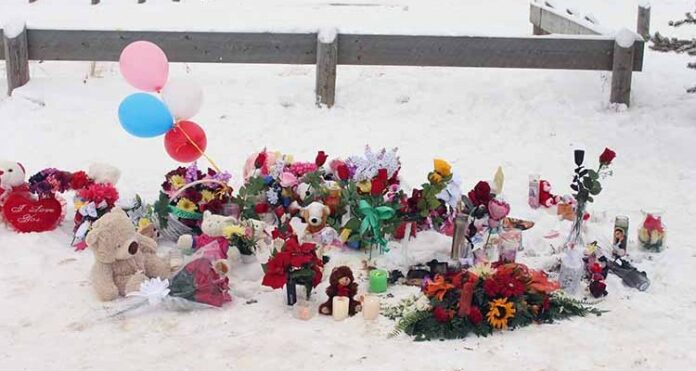 by Derek Cornet
A community in mourning, La Loche and area residents are finding strength through faith.
Floyd Lemaigre was accompanied by others Jan. 25 as they began a solidarity walk from the school on Clearwater River Dene Nation to the band hall. Reciting the prayers of the rosary in their native language, Lemaigre dispersed holy water from a bottle with hopes of clearing away some of the pain.
"It's to help heal everyone," he remarked shortly before the blessing began. "I want to support this community, the families in La Loche, the ones in the hospital and the one who's in jail."
Lemaigre – who has also been active at prayer meetings – felt compelled to do the blessing because of the power of prayer. He held a similar walk through La Loche many years ago when suicides were on the rise, and he believes it could be why the incidents seemed to decrease for a time.
The Catholic Church has deep roots amongst the people in La Loche, which shines through as residents continue to gather at Our Lady of Visitation. Many people have also sought the guidance of Archbishop Murray Chatlain, who's had a number of people knock at his door.
Chatlain serves 47 communities and arrived in La Loche the day after the Jan. 22 shootings because the regular priest was away. He held a large mass at the church on Sunday – which attracted hundreds of people – and said, recently, residents have been going there to listen to gospel music, pray and share testimony.
"This is a very Catholic community, so the people have been praying," Chatlain said. "When I arrived, right away they brought me to the family and I visited with them and prayed with them."
Chatlain went on to say ongoing support for La Loche will be available from the church as those who seek spiritual guidance will receive it. He said one of the concerns people have is, after the attention from La Loche dissipates, resources that have been brought in to assist with the situation will be gone. Chatlain added, the entire community has been victimized and everyone has been significantly affected.
"The reality is this could happen in any community," he commented. "It's not just a La Loche issue like somehow it's worse here than other communities. All of our communities have challenges and it reminds us to pour energy into our young people."
La Loche resident Jeff Herman said nobody in the community could have planned for such an event to happen. He's employed at the local radio station and has been assisting with a series of auctions to raise funds for the victims' families. Herman noted, when he heard the sirens on his way to work Friday, it was a sound all too familiar.
"You hear it too often around here with so many young people taking their lives," Herman said.
Since the shooting, everything has come to a standstill at the station. Businesses and offices in both La Loche and the nearby reserve have also closed, signalling the strong bond between the two communities. Herman said an individual can carry a heavy burden and everyone needs to come together.
"It's dark and it's silent and it's wondering when it's all going to kick in," he said. "It's going to take quite some time to heal. It's definitely changed lives forever. It's not easy to see these things – it takes grief."