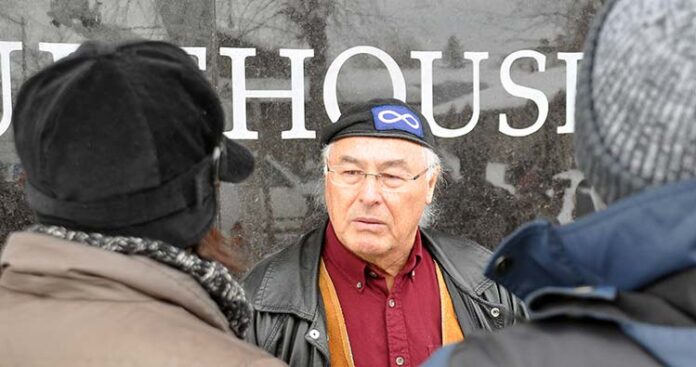 by Phil Ambroziak
From bad will come good.
That's the sort of optimism leaders from the North have as they strive to move forward in the wake of Friday's (Jan. 22) shootings at La Loche Community School and a nearby residence that left four people dead and seven hospitalized. The incident has been described as Canada's worst school violence since the 1989 shooting spree that killed 14 college students at Montreal's École Polytechnique.
"When I first heard about the shootings, I felt very sad and scared because I have family and friends at the high school," remarked Desnethé-Missinippi-Churchill River MP and former La Loche mayor Georgina Jolibois. "I also had overwhelming feelings of disbelief and shock."
Jolibois, who now spends much of her time in Ottawa, had returned to La Loche the night before and was in the community when the shootings occurred. As tragic as the murders are, however, she said it's important to keep in mind this sort of thing could happen anywhere.
"Violence is experienced world-wide – none of our communities are immune to it," she noted. "La Loche is no different, northern Saskatchewan is no different, Canada is no different."
Jolibois went on to refer to the shootings as horrific and painful, but added there are positives that can come out of what's happened.
"The community has come together, is healing together – we're all getting through this," she said. "And, the outpouring of support has been overwhelming. From people here in the North to throughout Canada and around the world – there was even a tennis player (Milos Raonic at the Australian Open) who acknowledged the community and the Toronto Maple Leafs recently held a moment of silence for La Loche. The support has been tremendous."
Jolibois also hopes the situation in La Loche will serve as the initiative governments need to pay attention to the needs of Saskatchewan's northern people and to provide both short and long-term solutions to ongoing issues such as poverty, employment opportunities, health care and more.
Leonard Montgrand, executive director of the La Loche Friendship Centre, agrees, but also said it's essential the community begins to stand on its own two legs. His comments stem from his reaction to interim La Loche mayor Kevin Janvier's recent opinion that La Loche Community School be torn down to make way for a new building as a means of putting the recent trauma behind them.
"Do I personally want to see it taken down?" Montgrand remarked. "Not at this point. But, if someone could strongly show me how it would benefit the community to do so, without a doubt I'd say to do so right way. It's a beautiful school, tons of people have graduated from there and it would cost a lot of money to build a new one. In the meantime, where would you house the students while the school is being torn down and a new one put up? I think that kind of money could be used toward other things in the community, but that decision is not mine to make. It's one that belongs to the students and staff, or to the community as a whole."
While Montgrand suggested such money could be better spent on infrastructure upgrades, social development and well-being programs among other things, he said he's most interested in seeing the community create its own economic development arm to help residents secure their own employment and their own wealth.
"Most businesses in La Loche belong to outside organizations, but after what's happened here, who is going to want to come here and invest?" he asked. "We have to look at ways to create our own economic opportunities, which will in turn allow us to take back our community, let us make our own decisions and let us speak our own language."
Jolibois, meanwhile, agreed the school in La Loche should be remembered for the positive things.
"I went to that high school, and the opportunities I received in life because of my time there have been tremendous," she said. "I'm only one story. We have hundreds of positive stories that come from that high school – police officers, doctors, lawyers, community leaders and the list goes on – and, right now, those are the stories I want to focus on."
Meanwhile, among those on hand at the provincial courthouse in Meadow Lake for the 17-year-old accused's preliminary hearing were Federation of Saskatchewan Indian Nations (FSIN) second vice-chief Robert Merasty and Métis National Council president Clem Chartier.
"It's such an awful, horrific situation," Merasty stated. "I mean, words cannot express what a devastating event this is for the families, for the community and for the whole people of La Loche and Clearwater River Dene Nation."
Merasty also said many people are looking at the accused as a victim himself, noting something has to be done to prevent other people from venturing down such a dark path.
"This is a call for action, a call for all of us to work together for the best in our youth," he said. "This is a community with a history of violence, a history of suicides, a history of drug and alcohol abuse, and this hits home for all of us because it could be our community. It could very well be happening in our backyard. We need to invest in our youth in the long term. There's probably a lot of other youth in similar circumstances – the bullying, the drugs, the alcohol, the suicides, the dysfunction, the lack of housing. There's a lot of issues and certainly we need to identify how we can help young people in similar circumstances."
Chartier agreed, adding his granddaughter attends La Loche Community School but was not there at the time of the shootings.
"We're hoping this tragic event, which should never have happened, isn't going to just be a flash in the pan and then people will forget what happened and how the federal and provincial governments, as well as the Métis government and First Nations governments, must work together to look at the issues, the short-term solutions people have been looking at these last few days, but also the long-term plans."