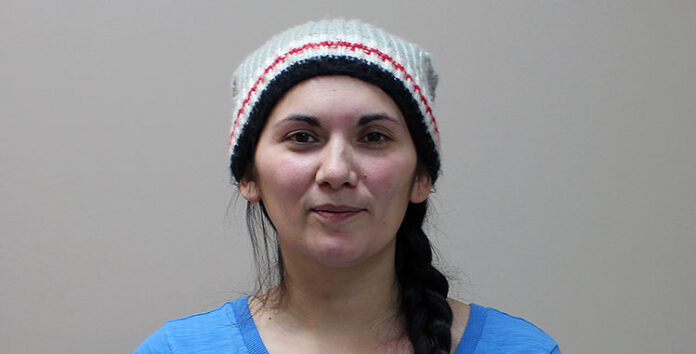 With deep roots in Meadow Lake, Loretta King has a lot of family nearby when she needs a helping hand. Recently, Loretta spoke with Northern Pride about her role with the band Just the Boyz, growing up in the Northwest and what it means to be Métis in 2016.
Q: Do you have any gigs coming up?
A: I have a show coming up with Just the Boyz in Prince Albert. I was asked to be a judge for the Battle of the Bands contest, but had to turn it down to go to the dance. I've been with Just the Boyz for close to two years now, but the band actually started in 1987. There's no original members left because people come and go over the years.
Q: How did get your start with the band?
A: I knew the men who played in the band as a kid. When I was about 14, I used to go to talent shows and stuff like that in the northern communities. That's where I met them. I began joining them on stage because they asked if I wanted a gig, I agreed and it continued from there. It's been a good relationship. I've been able to travel throughout the countryside and perform at different venues.
Q: Does the band play many shows?
A: It depends on the month. In the summer, we have been getting Canadian Professional Chuckwagon Association gigs and sometimes we open for higher-calibre musicians. At minimum, we're offered one or two gigs a month, but it does get busier than that. During the summer it's warmer and there are more outside events, so we're performing almost every weekend. Every place we perform is different and has a unique atmosphere. We've had a lot of highs and I've had a lot of good times with them.
Q: Who are your bandmates?
A: Dean Gauthier is the lead guitar player and he's also the guy in charge of bookings. Barry Kimbley is the drummer and he's also a superintendent of education for the Northern Lights School Division. Finally, Mitch Daigneault is a well-known musician in the aboriginal world – he's won awards for his music.
Q: Why is music important to you?
A: I don't play guitar onstage with these guys, but I do play on my own. I also write my own music – my dad taught me from when I was a little kid. It's something I enjoy for myself and it helps to soothe my soul. If I could, I'd like to do a recording someday. I've also taken part in the aboriginal music scene stuff and that's been good. At AMP Camp, I was the one person in all of Saskatchewan picked out of 30 in Canada to attend. It was basically a jump start into a career and had all the information someone would need like marketing. That was about five years ago.
Q: Is there a specific genre you like to sing?
A: I sing whatever I feel. A lot of people will have a specific genre and I'm well established with country music, but I do sing whatever. When we play on stage, I'll sing AC/DC, Guns and Roses, Journey, Loretta Lynn, Patty Loveless and Johnny Cash. When I write songs, it's mostly been country because I know country well. I write a lot of country music. I've written in other genres as well, but country is more my thing.
Q: Where are you from?
A: I was born and raised in Meadow Lake. I moved away for about 10 years and now I'm back. My parents are Daniel and Gwen King. I graduated from Carpenter High School and afterward I had my family and moved to Cold Lake. When I came back, it was nice because I forgot how everyone knew each other. That was a good remembrance.
Q: Are you a country gal?
A: When I was a little kid we lived in the country, but we moved to town when I was going to school. My family does have land out in Bear Creek, though. My father was involved with the Canadian Professional Chuckwagon Association for years, but he went to the Western Chuckwagon Association in Alberta last year. I'm not sure if he will be racing this year or not. He did race pony wagons too since before I was born until I was a teenager.
Q: What was it like having a father involved in the sport of chuckwagon racing?
A: I can't say I've known anything different. I was with my dad at every show. I was his little helper. I helped with the horses and whatever I needed to do. I liked the camping and the socializing. The chuckwagon community is more or less like a big family. Just like people can have a hockey family, school family or work family.
Q: How many members are there in your family?
A: My mother and father have six kids. I'm the oldest. My dad's mother had 10 kids and my mom's mother had five. My siblings are Darcie King, Harmonie Ulrich, Danielle King, Tracie King and Albert King. Harmonie lives in Saskatoon with her husband. She was recently on the CTV breakfast show doing music. She's also a musician. Darcie and Danielle live in Meadow Lake. Tracie lives on Red Pheasant Cree Nation near North Battleford and she's raising her family there. Albert attends school at North West College here in Meadow Lake.
Q: What's it like having so much family nearby?
A: At Christmastime, when I go shopping, it's like a family reunion. I walked into Home Hardware Building Centre one day and I saw an auntie and an uncle, then I saw another auntie and an uncle, then I saw a cousin. Everywhere I go I see family, which is good. I like the support and to be able to have that close bond. The rink is also really big in our family. We just have to go to the rink and we'll likely run into a family member.
Q: Tell me more about your family.
A: I have three kids of my own and three step-children. There are Nathaniel, Martina and Colt, and then there are my step-children, Colton, Clarice and Kaylem. They're between the ages of 10 and 16 They choose to be involved in a lot of groups, so I drive them around a lot. I'm at hockey, basketball, cadets and whatever else they want to do. My calendar is pretty full.
Q: Did you play hockey?
A: I was in Meadow Lake Minor Hockey when I was younger. I was also in ringette and took part in CanSkate. I skated a lot in my life. Right now, I'm the commissioner for the female Midget team and I'm also the manager for one of the Peewee teams. I have four children in hockey. This is the first year I've been involved so much. I decided to do it because I was on the first female hockey team and I remember the struggles the females had to play hockey with the boys in the higher ages. I remember how proud and happy I was to be on the first female team. The commissioner and the coaches were my aunties, so I had good support. I also wasn't willing to let it die down. Minor hockey has been having troubles not just this year, but for multiple years finding people who are willing to volunteer. For me, I know our females are very well-skilled and they have a lot of opportunities. I couldn't see Meadow Lake without a female hockey team. I felt I was obligated, but at the same time it was for the girls to be able to continue.
Q: Are Métis traditions important in your family?
A: My grandmother taught us all to do the Red River Jig. She would teach us how to jig in her kitchen and how to be light on our feet. As Métis people, the fiddle is also a big influence so my dad will play it during family gatherings. I have some family members who can also play the fiddle. My grandfather, Rod Bishop, was a big Métis politician in his day – he's deceased now. My grandfather, Edward King, was a senator for the Métis society as well.
Q: What does it mean to be a Métis person in 2016?
A: Things are changing. I was reading an article today and the current Métis president was saying it's time for change and how we need the younger people to come in and step up. It's very different because of all the laws that are changing such as how Métis people are now classified as Indian people. It's a confusing time, but at the same time, Métis people still know their roots. I don't think in 2016 it's very much different than in the 1980s because our music is big, our pride is big and our roots run deep.