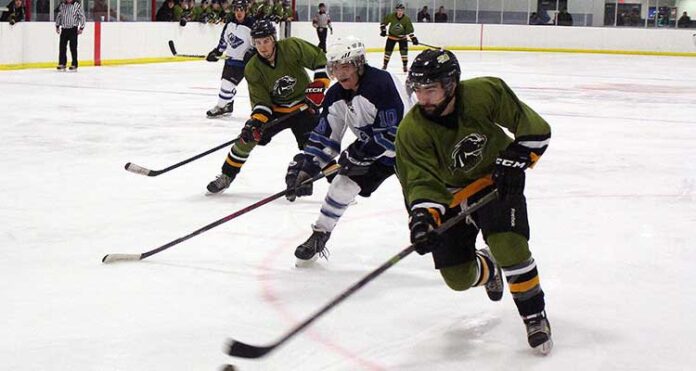 by Phil Ambroziak
As strong as the Meadow Lake Broncos have been throughout the latter half of the Beaver Lakes Hockey League's 2015-16 regular season, veteran goalie Rick Dallyn said the team can't let itself become too overconfident heading into the upcoming playoffs.
"As in any league, you're going to have some teams that are stronger than others," Dallyn said. "In our league, there are five very competitive teams while the other three are struggling."
Meadow Lake remains on top of the BLHL standings following a decisive 12-0 win over the last-place Moosomin Warriors Saturday night at PineRidge Ford Place on Flying Dust First Nation. The Broncos only have two more regular season games – back-to-back outings against the seventh-place Leoville Huskies this Friday and Saturday – before the opening round of playoff action gets underway the following weekend.
"They (Moosomin) were missing a few guys, which makes a difference too, but we dominated them for sure," Dallyn said. "Leoville is also one of the bottom teams in the league, so it's important for us this weekend to work on our game. We want to be competing at a certain level when we get to playoffs, but when you play weaker teams you tend to let up a little and not pay attention to some of the finer details that can really help you succeed out there. It's going to be a real test of our mental discipline."
Fellow Broncos player Darren Caron agreed.
"We're a pretty strong team right from the goalie out," Caron noted. "Rick has been playing like a young Rick Dallyn, bailing us out when we have some mid-game lapses. A few additions to the back end have helped out and, up front, the scoring is coming from all four lines."
While Dallyn was credited with the shutout in Saturday's game, offensively the Broncos were led by Taylor Arnold, Brody Brooks, Jordan Oystrick and Jarret Aschenbrenner each with two goals apiece, as well as single markers by Tyson Bannerman, DJ King, Chris Nault and Zane Morin.
As for this weekend's games against Leoville, Dallyn believes two more wins are inevitable for his team.
"We'll likely have our way with them – that's my prediction at least," he noted. "We have a good record, but a good record doesn't mean anything until you win the last game of the year."
Friday's (Jan. 29) game will take place in Leoville while, the following night, the action will return to Flying Dust. The action gets underway at 8 p.m.
As for playoffs, Dallyn said it's unknown who the Broncos will meet in the first round, but that entire best-of-three series will take place the following weekend.
Assistant Broncos coach Lloyd Esau said everyone is looking forward to playoffs, adding team members are currently out with injuries.
"My brother, Ray, has been experiencing a little bit of vertigo, but hopefully that will clear itself up in the next week or so," Esau said. "Brent Pevach is also out with a bad ankle, but should be back by the second round. The good thing is, our lineup is pretty balanced right through."