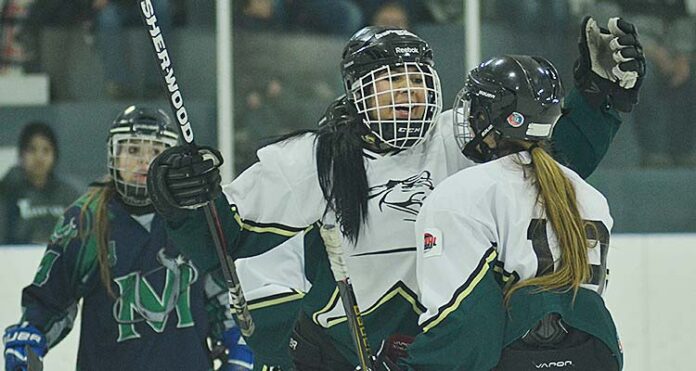 The Meadow Lake Midget 'A' female Stampeders are ready to become champions.
Following back-to-back wins against the Melfort Mustangs on the weekend, the Stamps have advanced to the final round of the North Sask Female Hockey League.
Game 2 in the two-game, total point series was played Sunday (March 13) in Melfort and saw Meadow Lake skate away with a 6-4 victory.
Hailey Ross put the Stamps on the board first at the 19:11 mark of the opening period. Melfort tied things up about five minutes later before eventually taking a 3-1 lead with goals at 10:28 and with only one second remaining in the period.
Meadow Lake battled back in the second, however, with goals by Amy Cantre at the 13:13 mark and two more by Ross at 3:23 and 1:11, resulting in a 4-3 Meadow Lake lead after 40 minutes.
Melfort was able to tie the game at 10:31 of the third period, but the Stamps cemented the win with goals by Makayla Hritzuk at 9:32 and Shaina Hounsell at 1:05.
"It was an exciting game," noted team manager Treena Neufeld. "Melfort was up 3-1 after the first, as we got into penalty trouble. But, we came back and won 6-4."
Two days earlier (March 11), Game 1 of the semi-final series was held at PineRidge Ford Place on Flying Dust First Nation. While the first period was scoreless, Cantre earned Meadow Lake's first goal at 16:42 of the second period followed by one from Ross at 10:23.
Melfort was able to tie the game minutes into the third period before Meadow Lake's Dayna Henry, as well as Ross, scored two more for their squad. Another goal by Melfort with two minutes remaining led to the 4-3 Stampeders' win.
In total, Meadow Lake captured the series 10-7.
The championship final is expected to begin some time after March 18, as that is the date the semi-final series between the Saskatoon Bantam 'A' Impact and Diefenbaker Thunder wraps up.