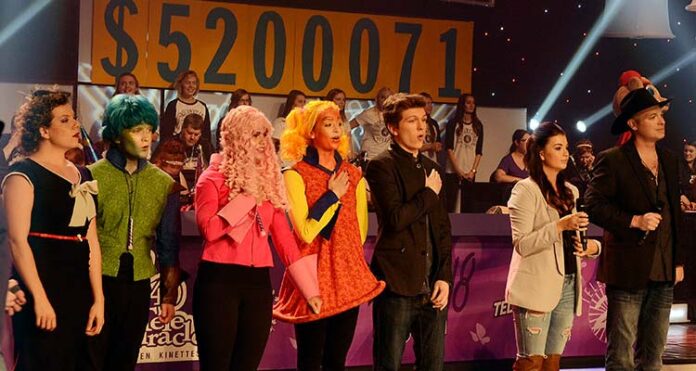 by Phil Ambroziak
The opportunity to be part of Telemiracle 40's national cast has put a group of Meadow Lake performers over the moon.
To the Moon – a children's entertainment group featuring the talents of four Meadow Lake and area teens – not only appeared on TV throughout the annual Telemiracle broadcast from Regina this past weekend, but also took part in a series of backstage segments via Periscope, a live video streaming app designed to provide viewers with a "second screen" and a closer look at the goings on behind the scenes. According to Lee Bell, the group's co-creator and songwriter, the chance to join the national cast stemmed from an audition To the Moon gave for Telemiracle producers last fall.
"They really liked what they saw, but didn't really know how to put us into the show," Bell explained. "That's when the idea of creating backstage footage using the Periscope app came about. The premise involved the To the Moon spaceship crashing at Telemiracle followed by the kids going around and learning what the event is all about. There was a little storyline to it, and they had a chance to make several appearances on the broadcast itself."
To the Moon features four main characters – Arla, Finny, Momo and Renka, portrayed by Lara Van de Venter, Grayson Marsh, Olivia Balisky and Teigyn Warkentin. All four performers were thrilled about the opportunity to contribute to Telemiracle this year.
"It was an experience unlike anything I've ever had before," Van de Venter noted. "I've done many performances in my life, but nothing prepared me for the emotions I felt during the Telemiracle experience – I absolutely loved every single moment."
Marsh described the opportunity as a life-changing experience.
"I am so grateful for the opportunity to join in such an amazing event and to serve such an important cause," he said.
Telemiracle 40 generated $5.2 million in donations for the Kinsmen Foundation. To the Moon received an honorarium for being part of the national cast, while travel and hotel costs were also covered. Bell said the gig was a big step in the group's career, which began in 2013 and has since featured an album and live performances throughout the province.
"We've been to places like Cold Lake, Buffalo Narrows, Ile-a-la Crosse, Saskatoon and, of course, Meadow Lake," Bell said. "We're now going to hit up some of the upcoming children's festivals, and we're working on a DVD. The goal is to become as big as possible, but that's going to take a few lucky breaks. We'll see what happens next."
What happens next could be a repeat performance at next year's Telemiracle.
"I love them – they're great kids who all seem very responsible and very mature," remarked Telemiracle co-producer Ian Roach. "They brought a lot of enthusiasm to the show."