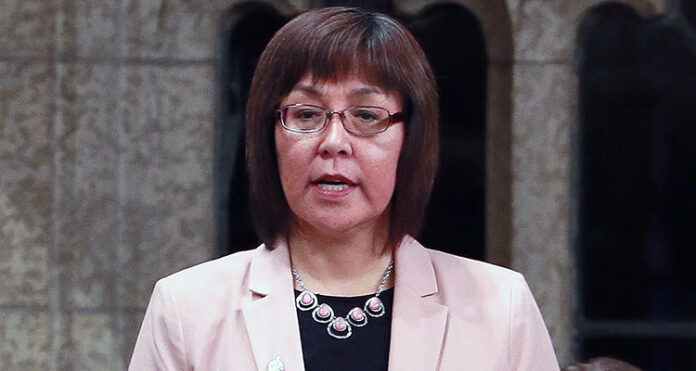 by Phil Ambroziak & Derek Cornet
Having been sworn into office Dec. 1, Georgina Jolibois has officially been a Member of a Parliament for 100 days. The new job, and change in lifestyle that comes with it, however, are still taking some getting used to on the part of the former La Loche mayor.
"So far, my work for the riding of Desnethé-Missinippi-Churchill River has been very rewarding," Jolibois said. "Yes, there have been some challenges along the way, but I've found the overall experience to be a positive one."
One challenge, Jolibois admitted, has been the transition from life in northern Saskatchewan to the hustle and bustle of the nation's capital.
"Ottawa is a beautiful city, yet it's still a city," she said. "It has a huge population and is incredibly fast-paced. Living here is entirely different than living in the North and in our riding where you're surrounded by beautiful forests, lakes and rivers. There, you can hear the birds singing, the water flowing and kids playing, but in the city all you hear is traffic."
As for her day-to-day duties as MP, Jolibois said both the NDP caucus and the Liberal government have been supportive of the area she represents, providing her with several opportunities to speak publicly in the House of Commons about Desnethé-Missinippi-Churchill River and the various issues affecting the riding.
"In my first public statement after being sworn in, I talked about the vastness of the constituency – its rural farms, First Nations reserves, Métis settlements and the many different municipalities with their local governments," she noted. "We have such a diverse population, are rich in language and culture – it's just a very peaceful area to live, and it offers a variety of economic development opportunities such as farming, mining and exploration."
Jolibois also had a chance to address her peers on Parliament Hill in the wake of January's shootings in La Loche. Shortly thereafter, she publicly thanked all Canadians for the national display of concern for the northern community.
In terms of staying connected with the people she serves, shortly after being elected, Jolibois established constituency offices in La Loche and La Ronge with plans to open a third office in the future.
"I'm originally from La Loche and it's usually common practice for an MP to have a constituency office in his or her hometown," she explained. "La Ronge was selected because it's on the east side of the riding and because (former Conservative MP) Rob Clarke had an office in La Ronge. Clarke also had an office in Meadow Lake and, although we don't have one there yet, we hope to open one there soon if there's enough money in the budget. It's important to have a presence in Meadow Lake too."
Meanwhile, as her tenure continues, Jolibois is looking forward to what the future has in store for both her and the riding, as well as the nation as a whole.
"One thing I'm looking forward to is the proposed change to employment insurance, which will provide easier access to EI for seasonal workers" she said. "I also look forward to continuing to meet with leaders from different communities within the riding, along with continued federal support for Saskatchewan's north. We will continue to work with the government on a number of issues suitable to our riding."
Jolibois went on to say the Liberal government made a lot of promises leading up to last October's federal election that saw Justin Trudeau named prime minister.
"It's up to us to remind the Liberals of these promises and to hold them accountable," she said.
---
Conservatives took hit throughout riding
Official poll-by-poll results released Feb. 29 from Elections Canada have provided an insight into how Desnethé–Missinippi–Churchill River constituents voted during last fall's 2015 federal election.
Data shows the Conservative voter-base took a hit in nearly every community in the riding when compared to 2011 results. The Liberals, however, made solid gains while the NDP were able to muster enough support to send La Loche's Georgina Jolibois to Ottawa. She won with 10,319 votes, followed by the Liberal's Lawrence Joseph with 10,237 and former Conservative MP Rob Clarke with 9,105.
In Meadow Lake, 53 per cent of voters selected Clarke on the ballot whereas 66 per cent had done so in 2011. Meadow Lake and other communities such as Goodsoil, Dorintosh and Rapid View were among the few places that tended to vote more so for the Conservatives. In the majority of communities, residents voted NDP.
"I don't know if people were tired of the Conservatives, but they felt they needed a different government, especially in northern Saskatchewan," remarked Ile-a-la Crosse mayor Duane Favel. "We knew it was going to go Liberal or NDP. I think that's why there was so much excitement in terms of people coming out to vote."
The voting pattern is particularly interesting in Ile-a-la Crosse because 389 people voted for the NDP and the same number, 389, did so for the Liberals.
Voter turnout also increased in the riding by 15 per cent. In 2011, 50 per cent of electors cast a ballot, while 65 per cent did in 2015. Those numbers reflect Canada-wide results, which increased from 61 per cent in 2011 to 69 per cent in 2015. The 2011 federal election had the third lowest voter turnout in Canadian history.
As for why so many people decided to vote last year, University of Saskatchewan political scientist Joe Garcea said, firstly, the election was engaging and there was heavy media coverage while, secondly, all three major parties fielded well-known candidates. Lastly, Garcea noted a special effort was made to encourage northerners and First Nations people to vote.
"All three parties understood that was a significant constituency for them," he commented. "The parties cared much more about the outcome in the riding this time than in the past."
Meanwhile, in La Loche, the voting pattern is unique considering only 40 per cent of electors voted in Jolibois' hometown. Also, the Conservative base there considerably eroded compared to 2011 while the Liberals made major gains. Garcea believes it could be because people assumed Jolibois would win.
Another significant factor was the boundary change of the riding. In 2011, communities such as Choiceland, Love, Smeaton and White Fox were included before being merged with the Prince Albert riding for the 2015 election. Voters there tended to support the Conservatives.