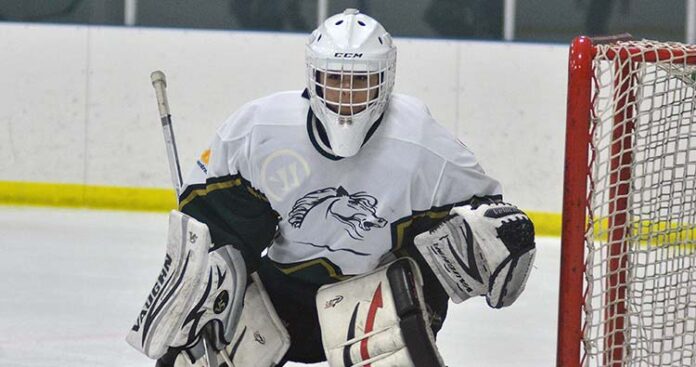 by Derek Cornet
The Meadow Lake Female Midget 'A' Stampeders won the first game of the North Saskatchewan Female Hockey League championship March 20 and can win it all at home in their next outing.
It was the first game in the best-of-three series and was won by the visiting Meadow Lake team 3-2 in overtime over the Saskatoon Bantam 'A' Impact.
Earning the Stamps first goal was Hailey Ross, 22 seconds from the opening face off. Saskatoon tied the game 1-1, but then Ross secured her squad's second goal of the contest later in the first period for a 2-1 lead heading into the second.
There was no scoring in the middle frame, but Saskatoon would tie the game 2-2 midway through the third period. In overtime, Meadow Lake's Sahayle Norman fired home the winning goal for the 3-2 victory.
In this game, the Stamps outshot Saskatoon by a 36-22 margin. Meadow Lake goalie Cassia Anderson said the trend has endured throughout the season, adding it's made her position on the team more manageable.
"Our team has improved during the last couple years – each year, as we get better, it gets easier on me because there are fewer shots," she remarked.
Anderson joined female hockey five years ago and has been her team's sole netminder for much of that time. In order to stay prepared during playoffs, she said being focused and watching the game in front of her and being ready for a shot is most important. Anderson noted it's important to always be ready because, as the last person to stop the puck, the whole team in counting on her.
"I enjoy the position because I get to play the whole game and, as a goalie, your team depends on you and some people can't handle it, and others can," she said.
A few years ago Anderson would have never thought the team would be where it is today, but when this season began, she suspected – if they worked hard – it would pay off. If the Stamps win the next match scheduled for March 29 at the Meadow Lake and District Arena, they'll win the championship. If needed, a third match is scheduled for April 2 at PineRidge Ford Place.
So far in the playoffs, the Stamps have played five games, outscoring the opposition 26-14. They're also the only team in the league to remain undefeated.