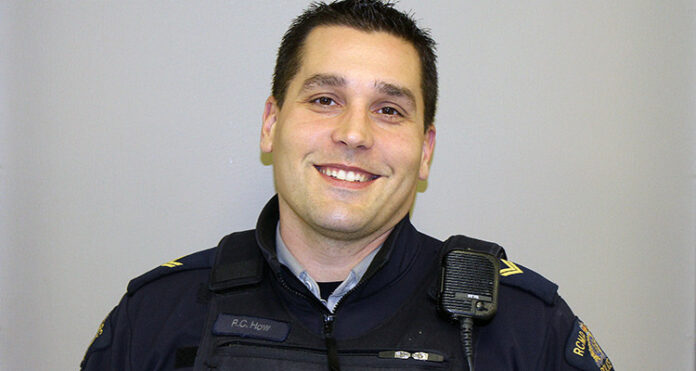 As the supervisor of the Meadow Lake RCMP detachment, Cpl. Ryan How is the strongest link between officers and the public. Recently, he spoke to Northern Pride about policing in northern communities, the goings on at the station and what drives crime in Meadow Lake.
Q: How long have you been at the Meadow Lake detachment?
A: Since August 2013. When I arrived, there was a different crew. It's the RCMP, so officers change over quite a bit. It was a fairly experienced crew when I first arrived. Since then, we've lost a lot of seniority, but what we've lost in experience and seniority, we've made back with enthusiasm and a lot of hard work by the junior crew that's come in. The majority of our members coming in right now are straight out of Depot. This would be their first post, so they're coming in with no policing experience. What we're seeing now is a true passion for the job.
Q: How many officers are new?
A: This is the first post for eight of our members and three are on their second. This is starting to get more typical because the RCMP is losing a lot of senior members. We're getting more and more juniors overall, but for a big detachment like Meadow Lake to have this junior of a staff is kind of rare. But, it's not a bad thing either.
Q: What's your policing experience in Meadow Lake been like?
A: It's been positive. Previously, I policed in only smaller areas like Canoe Lake, Beauval and Spiritwood. It's a different style of policing here. When policing in small communities, you get to know people a lot quicker – you get to establish those relationships with them and that really helps with policing. Policing in a city environment has its challenges. You don't get to know everyone or get to know the community as well. That's one of the challenges I found in a busy municipal detachment is making those connections. That's what we started pushing as something we could do better. It starts with communicating with the media and the elected bodies, and getting out in the community and being seen. Right now, our crew is involved at the schools and with sports teams – we have a corporal who coaches football. Making connections in the community brings a big detachment closer together.
Q: How does it help police work?
A: To be an effective police officer, there needs to be people talking to us. If people aren't talking to us and communicating with us, we're not being effective so we have to develop those relationships.
Q: Where are you originally from?
A: I'm from Cut Knife. My wife, Christa, is from North Battleford, so this is home for us. We both grew up around the Meadow Lake area, so we're happy to be here. We consider ourselves sort of hometown people here.
Q: Where did you begin your RCMP career?
A: My first post was Spiritwood in 2006. I did my time there, then went up to Canoe Lake. It was only supposed to be a two-year post and we lived on the reserve and loved it there. We have two young kids who were pre-school age at the time and we thought it was a fantastic place. The residents of Canoe Lake treated us like gold, so we extended two more years there. Canoe Lake is a satellite of Beauval, so I worked in Beauval and Patuanak, but mostly in Canoe Lake. After four years there, we moved to Meadow Lake.
Q: What's it like working in northern communities?
A: It had its challenges at first. The community was open and welcoming to my wife and I. They were really pro-police and treated my wife and kids excellent. Our kids started school there and we were impressed with the Head Start program and the Kindergarten and Grade 1 classes.
Q: Is there a different style of policing in the North?
A: For sure. When you're living in a First Nations community or any community with a different demographic, you have to be respectful to what that community's culture and traditions are. You have to get to know the leader, elders and people in general. We did that and we were welcomed in Canoe Lake, and I think it's because we wanted to get to know them. We would go to powwows, round dances and feasts with the kids and we got ourselves involved as much as possible.
Q: How many members were at the detachment?
A: There were supposed to be four members, but it fluctuated. Sometimes there were only two of us and sometimes we were full. It was nice being with a small detachment. You form good relationships with your coworkers because other coworkers were at the same stage in life as we were – married with kids. Our houses were also all together, so the backyards were always full of kids playing. It was a family-orientated detachment. The Beauval detachment was about 50 kilometres away and we were close with those members as well.
Q: How long do you plan on being in Meadow Lake?
A: It's a three- to five-year posting because it's not considered a northern post. It's a regular three- to five-year posting. I'm going into my third year, so if we were looking at moving we probably could, but we're happy in Meadow Lake. The kids have roots and my wife has friends. If we can extend our time, we'd be happy to do it because we enjoy Meadow Lake.
Q: What drives crime in the city?
A: There's a lot of transient people in Meadow Lake. There are people who stay for a week or a month with no employment and no prospects of employment. That causes issues for crime statistics. Alcohol abuse is by far the number one contributing factor to our stats. Then, the drug trade as well. The drug trade and youth crime are tied hand-in-hand. A lot of the youth who are car shopping (theft from vehicles), as well as break-and-enters, we believe, feed the drug trade and it's being done to pay for drugs.
Q: How do officers fight crime?
A: We try to be proactive as much as we can. This is where traditionally we've failed as an organization – to promote what we've been doing and be viewed as a reactionary police force. For example, members last year were frustrated with the amount of car shopping that was going on, so they actually deployed their own vehicles as bait. They were using their own vehicles to try to catch vandals going through them. There was more to it that I can divulge – we were using some technology with that. But, that's an example how far these officers are willing to go to catch these guys. We have to let the people know we're not just sitting behind a desk and waiting for the phone to ring. Members are doing foot patrols at 4 a.m. and we are using our own vehicles to catch people who are car shopping.
Q: Why did you want to become a Mountie?
A: I was a paramedic before this job and I enjoyed the nature of the work. I liked the shift work and not the office work. It was a natural progression. A lot of my friends in EMS work were making the transition to police forces. I was a flight medic in northern Saskatchewan and I really enjoyed it. The stability wasn't there, so that's why I joined the force.