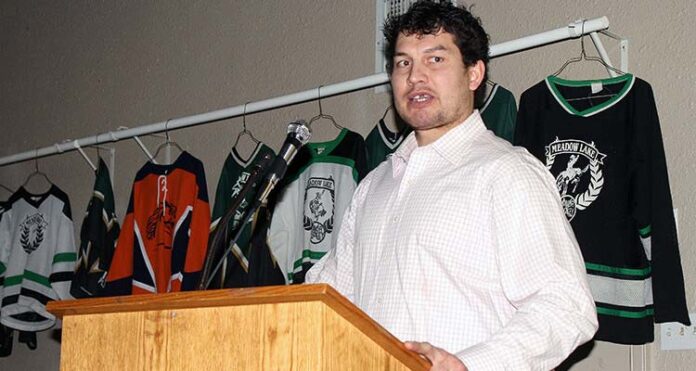 by Derek Cornet
For the first time in many years, a year-end banquet was held by Meadow Lake Minor Hockey March 15 during which a number of people were recognized for their success.
It began with a meal prepared for more than 450 people who packed the Meadow Lake Civic Centre to participate in the event. While coaches of the teams chose individual players for certain awards, club members were also allowed to submit nominations for other people worth celebrating.
This year's Coach of the Year was awarded to two men including Winston Morin with the Pee Wee AAs and Jeremy Norman with the female Midgets. Rookie Coach of the Year was given to coaches from the same squads including Cullen Morin and Danene Kopperud, respectively. Also, the Cory Wilson Memorial Volunteer Award was bestowed upon Rochelle Warren and the Pat Villeneuve Lifetime Membership went to Dale Hawryliw.
Winston Morin hadn't coached for several years prior to 2015-16 season. He had extensive coaching experience prior to returning, however, and said it was a great honour to be given the award. Morin coached with his son, Cullen, adding he's the one who asked him to return to the game.
"I was a little rusty," Winston Morin said. "All the sayings the kids had have changed. The kids still want to play hockey, but the culture has changed. It was a lot of fun, though. You get more out of the kids than they ever get out of you. I enjoyed being around the kids and I love hockey."
Meanwhile, Warren also felt honoured to be recognized for her volunteering efforts. She has two children in the club – Cassia and Kade Anderson – and volunteered by taking on the role as ice scheduler, as well as the position of treasurer for her son's Bantam team. Warren said dedicating so much effort to the club is time consuming.
"The ice scheduling can be really busy, especially in the fall when I'm getting all the game times ready," she remarked. "As the year goes on, it gets a little bit easier, but it's tough. I'm travelling with my family and I always have my phone or computer, so I can have access to the Internet if someone needs to book or drop ice time."
She went on to say volunteers are the backbone of the organization and she feels humbled to be picked out of so many people. Warren added, she'll always be willing to lend a hand because it's important for her to keep activities available for kids.
Also at the event, keynote speaker DJ King talked about respect and told the athletes in attendance, if they haven't already realized, a day will come when they'll notice a lot of people are working hard to make the club and each of them a success.
"It takes a good household to get kids down the road," King commented. "Hockey is one of the most expensive sports and sacrifices need to be made. Young kids won't notice right now, but as you grow up you'll notice not only the dollar figure, but the time and all the hard work."