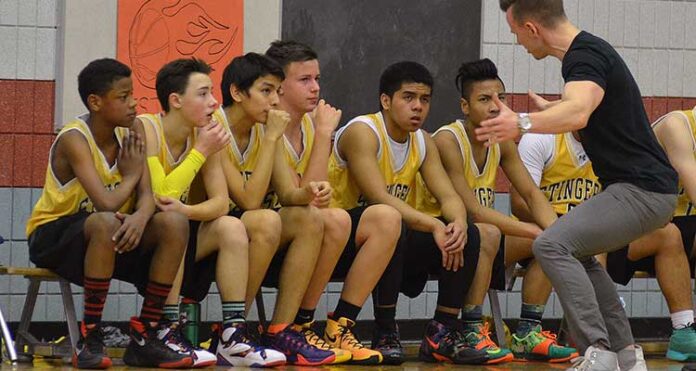 by Phil Ambroziak
The bigger they are, the harder they fall.
Just ask the Jonas Samson Junior High boys basketball team, which beat the much larger squad from Onion Lake in the Saskatchewan High Schools Athletic Association (SHSAA) 3A conference playdowns on the weekend to advance to regionals.
"We played unbelievably in the game against Onion Lake," noted JSJH coach Leonard Timmer. "They had some big guys, too, including one player who was 6'7" and a few who were around 6'4" and 6'5". But, we didn't lose our ground and were able to come out on top."
The final score ended up 73-68 in favour of the Jonas Samson Stingers, but the win did not come without sacrifice.
"We did lose one of our guards," Timmer explained. "Alvin Zamora rolled his ankle and we're not sure where things are at right now as we prepare for regionals. It's not looking good, though."
Until his injury, Zamora gave a strong showing, as did his teammate Aldrin Zamora.
"Aldrin had two very strong games," he added.
In the first game of the three-team tournament, Jonas downed Lashburn High School 70-50.
"I don't know if I'd say we're surprised by the outcome because, when we play together as a team, we're good," Timmer continued. "When we play as individuals, however, we're not so good."
According to Rob Kozinski, a teacher at JSJH as well as the referee who officiated the games, the weekend featured "some good, fast-paced games with a lot of skill on display."
"Three-point shooting really came alive this year, too," Kozinski added. "Our boys had at least five in the first half – I don't remember calling that many in a single game."
As for this coming weekend's regional tournament in Shaunavon, Timmer believes the Stingers have what it takes to give another impressive performance.
"It was great to see how much the community got behind us and gave us their support," he said. "It's going to be tough from here on in, but we're just going to go out there and do our best this weekend, and see how things play out. It's been a very successful season, so whatever else we're able to achieve at this point is just gravy."
Earler this year JSJH entered provincials with just their Grade 9 athletes competing in the 3A division based on the number of male students in their school – 51-120.
In other conference playdowns, Buffalo Narrows was defeated 74-72 by Pinehouse Lake in 2A boys action while Rossignol High School from Ile-a-la Crosse defeated Se-Se-Wa-Hum School from Victoire, SK 70-43 before losing to Pinehouse 81-59. This event was held in Buffalo Narrows.