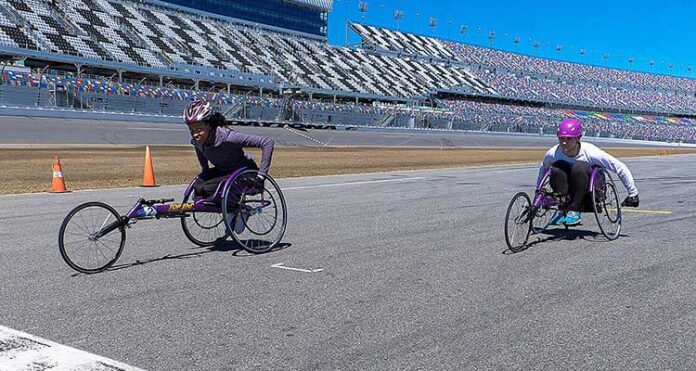 by Phil Ambroziak
While attending Carpenter High School, former Meadow Lake resident Nikita Ens was known for her athletic ability. Now, two years after a crippling automobile crash, Ens has found a way to once again achieve success in the sporting world.
"I'm involved in track and field again – I compete in the discus throw, shot put and in racing," Ens, who now resides in Saskatoon, remarked. "Right now, I compete in 100, 200 and 400-metre races."
Her ability to compete, Ens added, shows how much progress she's made since the Feb. 2, 2014 head-on crash west of Meadow Lake that left her confined to a wheelchair.
"Officially, I'm an incomplete C7 quadriplegic, which means I have a little bit of feeling but not much movement," Ens said.
Although her life has changed forever, Ens shared how important it is for her to be able to carry on with the things she loves, and athletics was always a big part of her life before her accident.
"When I was still in the hospital, a wheelchair athlete came to talk to us and to recruit us – it was quite inspiring," Ens continued. "I started training last summer with a team called the Cyclones and, so far, things have been going really well."
Ens trains three times a week at the Saskatoon Field House, and has already competed in a handful of events.
"I also spent two weeks in Florida recently at a training camp," she said. "And, I'll be competing in track meets in both Victoria, B.C. and Arizona in the next few months."
As for how well she's done so far, Ens likes to tell people she won silver.
"What I don't usually tell them is there's usually only two of us competing at one time," she added. My initial times haven't been that great, but the training camp in Florida has helped me so much. I've since qualified for three Paralympic events."
However, Ens doesn't know if she'll actually have the chance to compete in the 2016 Paralympic Games in Rio de Janeiro, Brazil because, as she noted, it's not common for first-year athletes to receive an invite.
"But, it does increase my chances of possibly competing at the next Games," she said.
According to Ens' mother, Monica, it's both fun and inspiring to see her once again competing and, in turn, making the most out of the hand life has dealt her.
"It's good to see her being involved again and having goals to strive for, and meeting new people, Monica Ens said.
Her father, Rod, noted how enjoyable it is to see his daughter engaged in learning new skills.
"It has been good for all of us," Rod Ens said. "It's an opportunity to meet people who are succeeding daily while in challenging circumstance. One of the really cool things we are slowly catching is the members of this special group of people don't see themselves constrained in any way. They see the opportunities."
Nikita Ens, meanwhile, said she wouldn't have made it as far as she has without the support of family and friends.
"A big thank you goes out to everyone who has been there for me and to those who continue to help me train," she said.