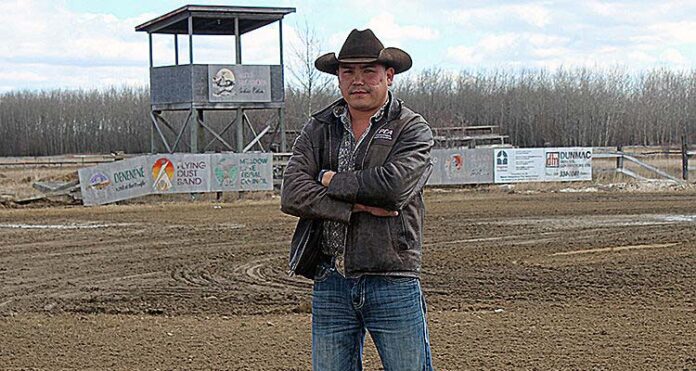 by Derek Cornet
After a one-year hiatus, Devin Mitsuing is preparing for this year's Canadian Professional Chuckwagon Association (CPCA) season.
In recent weeks, Devin – along with his father, Ray Mitsuing – have been completing chores around the family ranch as they wait for the ground to dry. In preparation for the coming season, Devin Mitsuing said the barn is being cleaned and the track harrowed before training the horses begins.
"We've also got our wagon to put together and the truck needs an oil change," he remarked. "We have the tractor running, so we pulled the harrows around. We haven't done too much with the horses yet, so I'm hoping to have them trimmed and brushed soon."
The Mitsuing ranch consists of three corrals, which each contain about 12 horses. The property also has a large track complete with grandstands and an announcer's booth that was used for events in the past. Mitsuing said, once the horses begin exercising, the process will be slow at first, but gradually pick up.
"We have a truck with bars and we hook four at a time on them – two in the front and two in the back," he commented. "We give them three slow laps around the track. The new ones we hook up and drive them. That's how we get them into shape."
Earlier this month at the CPCA Finals Tarp Auction, Mitsuing claimed $17,000 in sponsorship money, the top amount out of 29 drivers. Mitsuing was hoping to be among the top recipients, but was unsure considering the time he was away from the sport.
In 2014, Mitsuing was kicked in the face by a horse in Onion Lake. He was putting the horse to bed when it suddenly kicked without warning. Mitsuing said he never seen the blow coming, but it resulted in the surgical implantation of 19 plates and 60 screws.
"You have to be aware and you can't always let your guard down," he noted.
Racing since 2004, Mitsuing's most memorable highlight of his career was when he captured the 2011 CPCA championship. He nearly won the following year as well, but lost by half a horse length to eventual winner Vern Nolin.
For 2016, he's hoping to drive the wagon his father raced with last year. He said the wheels run smooth, straight and it pulls easy. The wagon, however, needs repairs including the replacement of two wheels, a seat and the mesh needs to be corrected after a rollover involving Ray Mitsuing on the last day of racing in 2015.
"It was the Sunday Championship Dash at the finals," Devin Mitsuing remarked. "He came out of the barrels and Wayne Knight came around and hit him on the side and just flipped it. I was scared for him, but he got up and was grabbing the horses. None of the horses were hurt too bad and my dad was a little banged up, but he's alright now."
While the Mitsuings enjoy racing in the CPCA, it's also quite expensive. The horses are purchased for between $5,000 and $10,000 each and then they have to be trained, shoes placed on all the horses and they need to be fed all year long. Also, when travelling from show to show, fuel needs to be paid for five vehicles and the crew needs to eat. Without sponsors, Mitsuing said he likely wouldn't be taking part.
As for transitioning to the World Professional Chuckwagon Association, Mitsuing said the CPCA schedule is less extensive, which works for him at the moment. But, he's watching where other drivers are going and is making considerations.
"We'll see how this year goes," he said. "I'd like to stick around and race, but if it's not making it worthwhile, then there's no point sticking around."
Ray Mitsuing is proud of Devin's success, noting chuckwagon racing is all in the family. He's undecided whether he will finish the season with the CPCA following the 2016 Calgary Stampede, but noted Devin has a bright future.
"That's what people are after nowadays is young drivers," said the 33-year veteran about the 2016 tarp auction. "He's got a lot of connections. He knows a lot of people from racing in the past and they know he's a good driver. I imagine they went after that."
Devin Mitsuing is also looking forward to his future in chuckwagon racing. When he was child, he said he didn't think it was for him but his family's passion for horses runs deep.
"I grew up watching and I thought it was too crazy for me, but once I started driving and getting near the top, I realized I wanted to keep going forever," he concluded.